Introduction
Serbia – a country beautiful in many different ways.
Serbia in the West Balkans is a wonderful country, perfect for all kinds of travelers. It offers amazing nightlife, the most delicious food, hospitable people and some of the most breathtaking scenery in the whole of Europe.
Located in the heart of the Balkan Peninsula, where the Mediterranean wind blows… It is the land of contrast, with Pannonia plain, which is the most fertile land in Europe, and on the other side, with mountain peaks with 2000 m altitude. Brightly and crystal clear streams flow through Serbia, and believe it or not, you can still drink water directly from them. Of the 6 bioregions in Europe, 5 are represented in Serbia, which speaks volumes about the richness of biodiversity in our country.
Having been fought over by Romans, Ottomans, Hapsburgs, and various other people, Serbia of today is a true blend of cultures, religions, and nationalities and a place filled with perfect tourist destinations.
The majority of the population are Serbs, and in addition to Serbs, 40 different national communities are living next to each other and respecting all the differences between them. It is a country of emotional, hospitable, and kind people who possess a sense of sportsmanship, extraordinary traditions, and a huge cultural heritage that enriches the entire European culture.
Isidora Duncan said about Serbs:
"Nice world, you Serbs. A rare sense of hospitality and a confidential intimacy that adorns only those who know how to be great friends."
We can not fail to mention that Serbia is a land of basketball, with numerous gold medals on European and world championships and the land of best tennis player Novak Djoković!
Serbia Information
Language
Much like its Balkan neighbors, the national language of Serbian is a Slavic language. Now, if you're afraid of not understanding signs in the Cyrillic alphabet, there's some good news. While Serbia does officially use the Cyrillic alphabet, they also use the Latin alphabet you're used to. Signs are generally in both or just Latin.
The Serbian language has the phonetic rule "write as you speak and read as it is written". If you do want to learn a little Serbian, which local people always appreciate, here are a few basic phrases to get you started. They include ''Zdravo'' which means Hello; ''Hvala'' for Thank you; ''Izvinite'' for Excuse Me; ''Molim'' for Please; and ''Da'' and ''Ne'' for Yes and No.
Want to know what makes Serbian different from other Slavic alphabets? Read here.
Currency
Serbian currency is dinar, officially "RSD," but you will find it written as "DIN" as well. Credit cards are accepted in most hotels and shops, and nearly all ATMs accept international bank cards. If you want to pay in cash, it is necessary to have money in local currency.
Foreign currency can be exchanged in all banks and post offices and the many authorized exchange offices.
The exchange rate is stable for the past couple of years. You can check the current rate at the official National bank of Serbia here.
Safety
Belgrade is one of the safest cities with very low levels of street crime, but pick-pocketing and purse snatchings might happen, like in bigger cities. Travelers in Belgrade should keep their belongings on them at all times and never out of sight.
Cuisine
The great variety in Serbia's cuisine originates from its geographical, national, and cultural diversity and the jigsaw of centuries of population changes. Influences on Serbian cuisine have been rich and varied – it first began as a mixture of Greek, Bulgarian, Turkish, and Hungarian cuisine.
Generally, Serbs are real gastronomes, enjoying preparing the food and eating it. All Serbs are very proud of their food, and they should be, having a rich cuisine and a large diversity of alcoholic beverages that accompany these amazing dishes.
Be prepared for your visit to Serbia, find out more about our food and specialties here.
Interesting facts
We present to you some of the most interesting facts about Serbia and some of them you maybe even know: https://www.serbiaincoming.com/magazine/interesting-facts-about-serbia/.
Belgrade – Serbia capital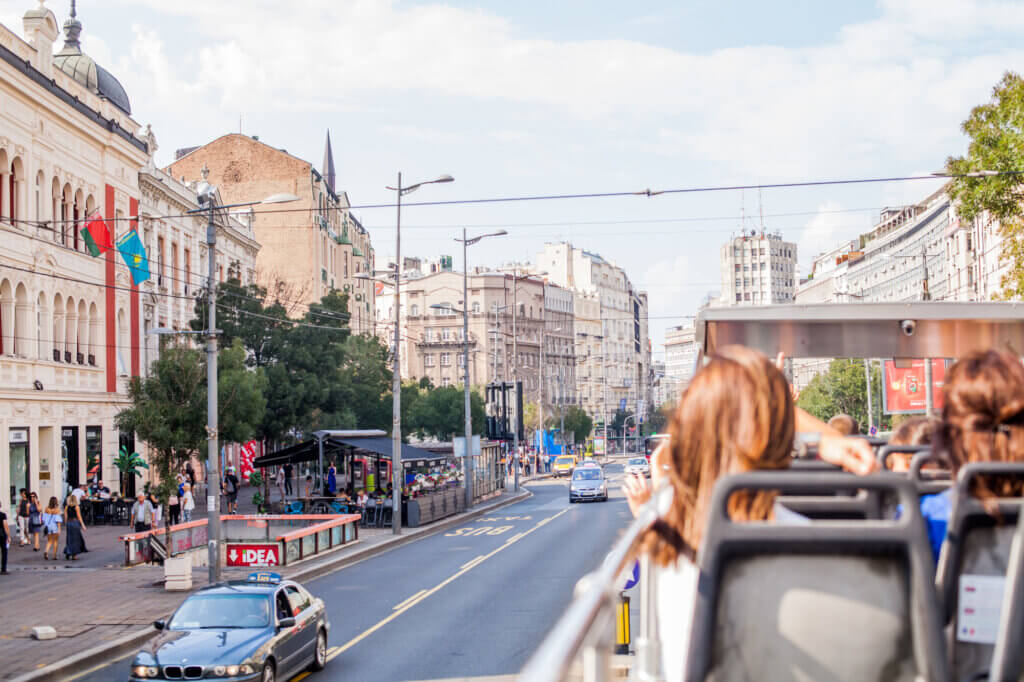 Where to stay?
You'll enjoy your trip more if you stay in a place that suits your travel style. Whether you like peace and quiet or want to be in the middle of everything, whether you're on your own or with your family, here are the best areas to stay in Belgrade.
Belgrade is located at the intersection of the Sava and Danube Rivers and offers everything you could want to do, eat, or see for a long or short stay. The city is filled with amazing architecture, the food's awesome, and the vibe is bright, cheerful, and modern.
That's why there are many great accommodation options whether you're deciding where to stay in Belgrade for your first time or on return trips.
Stari grad is the best area in Belgrade to stay in on your first trip or a return visit. It's right in the center of all the attractions and close to more cafes and restaurants than you could ever visit. From here, you have easy access to the major sites of Belgrade, such as the Kalemegdan Fortress and many museums and galleries.
Terazije is also a good alternative to Old Town. It's centered around Terazije Square, a historic area full of shops, cafes, restaurants, and several hotels.
Dorćol was once the city's bohemian quarter and frequented by poets, writers and actors. And it's also the best neighborhood to stay in Belgrade for people-watching and relaxing vacation. You'll experience this history when you hang out in one of Dorćol's many cafes or taverns.
The main pedestrian street connects all of these locations with a view of wide eclectic architecture, raised during WWI and WWII. Secession also made its stamp on the perspective of this historical area. This is a popular area for hotels, so you won't have trouble finding a comfortable place to stay during your trip.
Savamala – urban neighborhood of Belgrade. One of the river's favorite places is Beton Hala, where you can find several restaurants and clubs overlooking the confluence of the Sava and the Danube. In Savamala district, you can see the most famous murals and graffiti, the most amazing architectural trademarks of the former industrial zone, wonderful art galleries, cultural center, Belgrade Waterfront project, and many, many more. This is one of the coolest places to stay in Belgrade.
Vračar – small romantic area, and it's densely populated despite its small size. The bars, restaurants, and hotels in this area are a little more affluent than in other parts of the city, offering a high level of hospitality and service. Vračar is also close to Old Town and several attractions you'll want to see on your trip. One of the largest Orthodox churches in the world is situated at Vračar – Saint Sava Temple. So, you won't miss out on the more tourist-oriented areas if you decide to stay in this neighborhood.
New Belgrade – a final area to consider for Belgrade accommodation is New Belgrade or Novi Beograd. This is a business area. Most of the companies are located in it, shopping centers, fantastic trim track along Danube river, and two large rivers: Danube and Sava.
This is the largest district of Belgrade and sits across the river from Old Town, next to Zemun, so it's still a very central location for your Belgrade holiday.
Belgrade has world-class luxury hotels, historic and boutique hotels. Take a look at our recommendation of hotel accommodation here.
Where to eat?
Serbia is a country of true gourmets, and every part of the country has its specialties. In Belgrade, you can enjoy all the traditional flavors and meals in many different restaurants, and you can find all types of world cuisine.
The place everyone will recommend is definitely Skadarlija – the bohemian quarter of the city, filled with restaurants with traditional Serbian food and music. A place to enjoy your meal and drink like a real bohemian. Also, there is one very interesting and unique restaurant in Skadarlija that serves and offers various dishes made of truffles.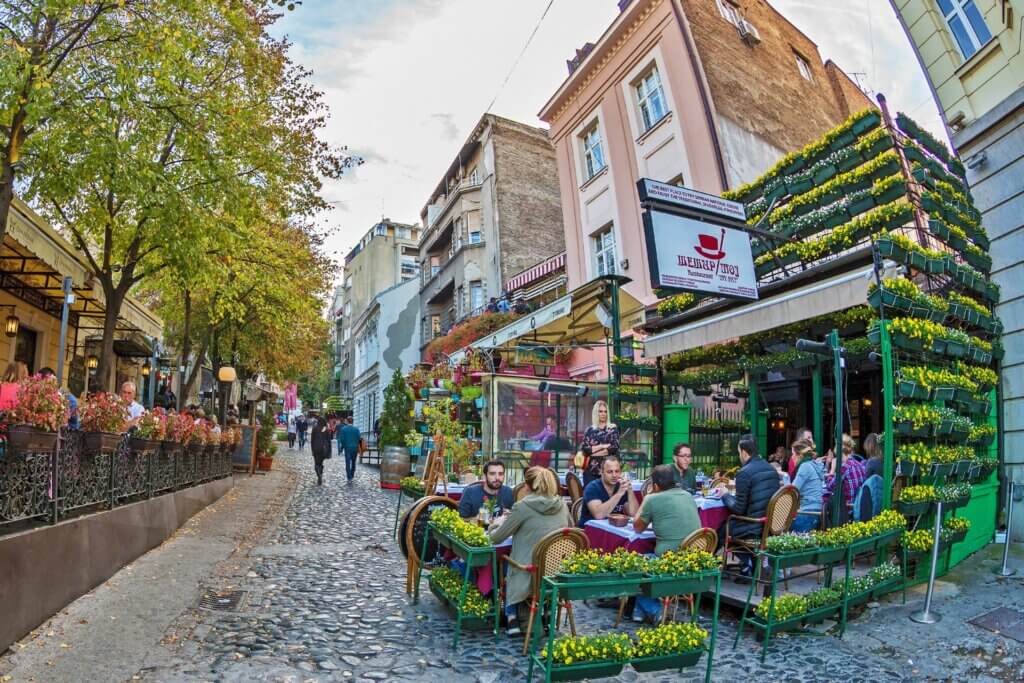 If you are more fan of the places with a good view, then you shouldn't miss the restaurant at Kalemegdan fortress, offering amazing food accompanied with the best panoramic view over the fortress to Sava and Danube rivers.
As we said, modern cuisine is a big part of Belgrade, especially on the banks of the Sava river in Beton hall – an urban district with various restaurants, of interesting concepts, from the open kitchen, fusion cuisine to cabaret show!
When talking about world cuisine, worth mentioning is the restaurant at Belgrade's first world-class luxury hotel with luxury design – Square Nine hotel and Ebisu restaurant. The restaurant takes an Asian theme and is named after the Japanese god of fisherman and luck. It is located on the hotel's rooftop, offers views over Belgrade's most charming historic district, serving the finest Japanese cuisine in the Balkans.
What to do?
How to spend a day in Belgrade?
The capital of Serbia is usually described as a city with its own personality and soul, a city that will indulge all your senses. It is like a magical place where all the artists and bohemians used to gather. It is a place that had a huge part of rich history and a place where all of the greatest ideas were made. In Belgrade, you can find the oldest cultural and architectural monuments of great significance.
As locals, we are going to recommend our favorite way to spend a day in Belgrade.
To feel the city's essence, our recommendation is to visit the Old part of the city – Dorćol. Just by walking through its narrow streets, you'll feel the special vibe of this part of the city. Spirit of Dorćol is felt and recognized through its magical, lively streets, the facades of the old buildings, vintage shops and cafés, restaurants, ice cream trucks, authentic Serbian cafes, museums and art galleries, and many, many more.
Take a cup of coffee in one of the finest cafes in the city, hunt down the most delightful murals in the city depicting famous Serbian actors, musicians, and artists or just explore many old beautiful buildings and houses. Feel the mixture of the cultures that once upon a time ruled over the Balkans while visiting The Bajrakli Mosque (the only one that remained in the city).
Dorćol is a trendy place to live and visit since it has plenty of interesting content to offer and the variety on offer is impressive.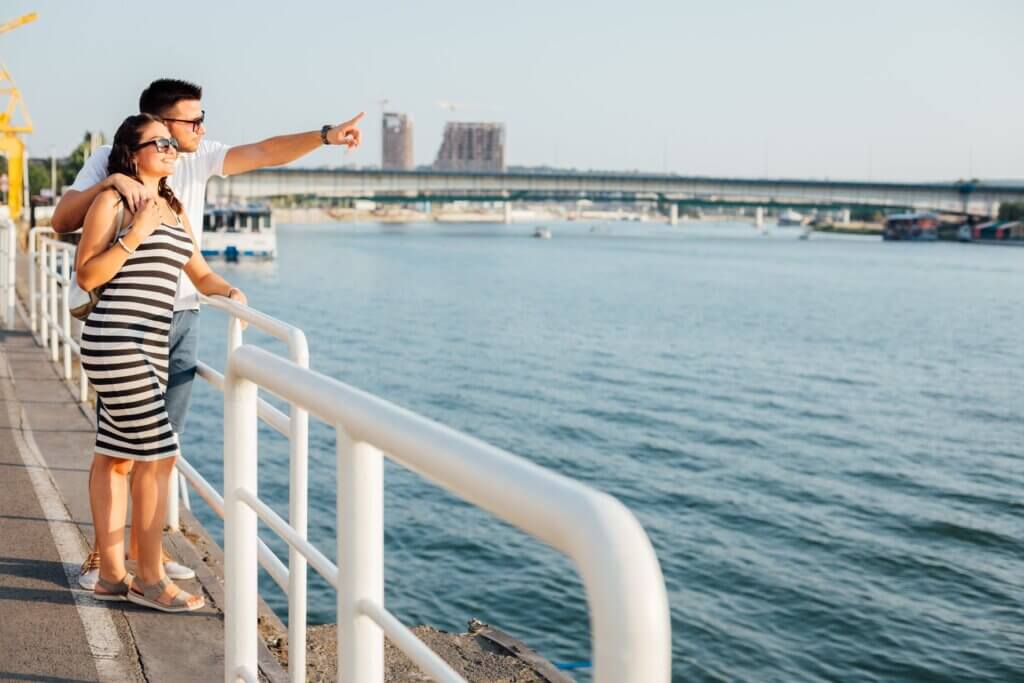 Staying for a weekend in Belgrade?
During the years, Belgrade became an ideal destination for city break travels as the capital city offers various options for accommodation, excursions, sightseeing. A city with a great connection, affordable, yet classy and modern.
Here are the most important things and places you shouldn't miss during your weekend stay in this magnificent city – a must-see in Belgrade.
Certainly, be prepared for a lot of walking because that's the best way to truly meet and feel the soul of the city. Many people say that Belgrade has an amazing atmosphere which is not easy to describe but only feels.
Top 3 day excursions from Belgrade
Nightlife in Belgrade
If you are planning to visit Belgrade, you probably heard about its popular nightlife. Belgrade is usually described as the city that never sleeps, and we couldn't agree more!
Over the years, the capital of Serbia gained its popularity partially thanks to its floating river clubs (famous ''splavovi''), many nightclubs, bars, and lately, there are more alternative places to go out and have fun.
The most popular among tourists in Belgrade are floating river clubs along the banks of the Sava river. Most of them open after midnight, when the real party in the city begins. There are so many floating clubs that every music taste could be satisfied, from pop, rock, techno, electro to even domestic Serbian music. Parties at those clubs last until early morning hours. Just to mention some of them: Lasta, Kućica, Shake'n'Shake, Nacionalna klasa, Šlep…
A vibrant city, such as Belgrade, has many bars of different concepts, with live music bands. In those bars, music is lighter, such as jazz sounds spreading over the streets. If a bar is located in the city center and urban area, it's usually open until 01 or 02 a.m. After that, you are continuing to the club as a true Belgradian.
The most attractive zone with bars is Cetinjska street, an alternative zone in the city center, with various bars (Zaokret, Berlin Monroe, Dvorištance, Zgaženi Golub…). Many of them have lovely yards, such as the Bajloni bar, which used to be one of the first breweries in Belgrade. The other one is Dorćol Platz and Strahinjića Bana street. You could easily just wander around Dorćol, and you'll find at least one bar in every street. The one that will attract your attention is Blaznavac bar, located in Kneginje Ljubice street.
There are also romantic parts of Belgrade with bars, like Kosančićev Venac, where light music from the bars echoes through cobblestoned streets and the Jazz garden leading to the Beton hall.
Beton Hall is currently the most attractive place to go out in town. Filled with restaurants of various cuisine, followed with live music bands, that every night is different, overlooking the Sava river and floating club on the other side.
The offer wouldn't be complete without kafana (tavern) – a meeting place for Serbs. Skadarlija is the best place to feel the spirit of kafana and its true meaning. To date, the most famous taverns are Tri šešira (Three hats) and Dva Bela goluba (Two white pigeons) in Skadarlija, tavern ''?'' in Kralja Petra Street across the street from Saborna Church, and once famous tavern Dardaneli located between Čika-Ljubina Street and Vasina Street, that doesn't exist anymore.
Check out some nightlife examples https://www.serbiaincoming.com/magazine/belgrade-ultimate-party-and-nightlife-city/

Novi Sad – the second-largest city
Novi Sad is the second-largest city in Serbia, the administrative seat of Vojvodina. The city has a population of around 250,000 people, and it is located in the southern part of Pannonian Plain, on the banks of the Danube river and the Danube-Tisa-Danube Canal.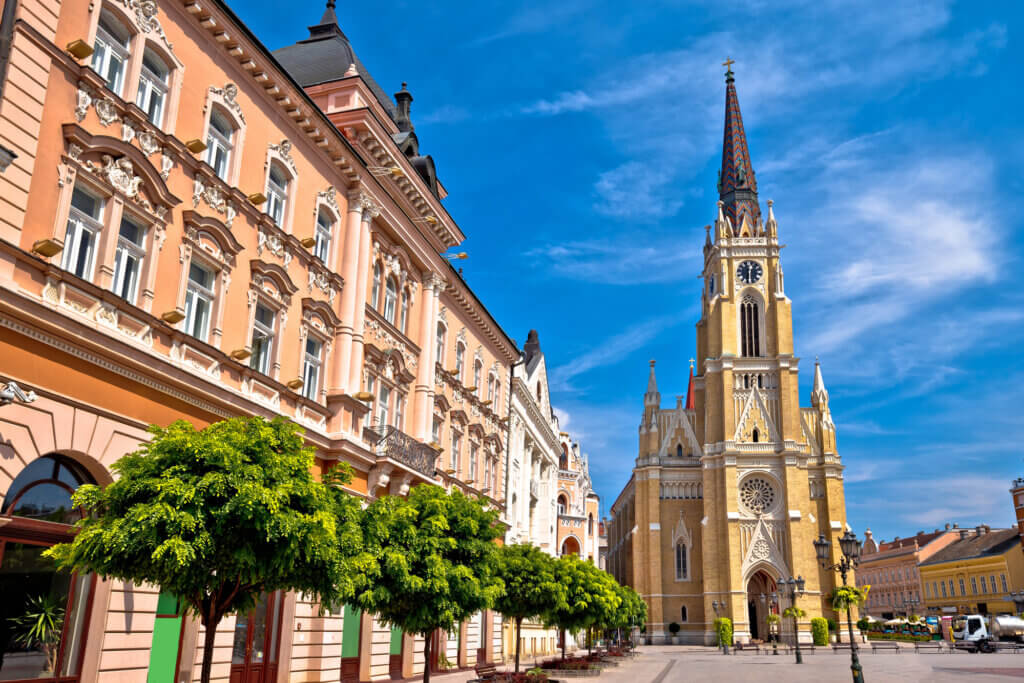 Known as the Serbian Athens, Novi Sad has been built, destroyed, and rebuilt over the centuries and is an interesting mixture of old Serbian cultural heritage, Austro-Hungarian architecture, and scenic beauty. It was founded in 1694. and its name means new plant.
The city sits on the banks of the Danube River. It is surrounded by fertile farms and vineyards and framed with hills in the distance.
If you want to reveal a peaceful town in a beautiful Serbia that looks like a place from a fairy tale, then you are just about to meet Novi Sad: https://www.serbiaincoming.com/destination/novi-sad/.
Where to stay?
Tons of hotels can be found in the city. Whether you're looking to stay in a trendy neighborhood or you're interested in a more secluded spot, you'll be sure to find your ideal place to stay in Novi Sad. Popular neighborhoods in Novi Sad:
City Center – it's compact, charming, and well-restored with plenty of beautiful buildings.
Petrovaradin – located on the other side of the Danube, this municipality houses the fortress and plenty of green space.
Liman – another riverside district, Liman is a bustling business area with plenty of residential units as well.
Novi Sad can boast with a varied offer of accommodation facilities that meet the needs of tourists of different affinities. As the administrative center of Vojvodina, Novi Sad has developed into a congress tourism destination with many modernly equipped congress halls and event centers.
Where to eat?
Novi Sad has always been the place where food was good, and meals could be eaten at a slow pace. If you wish to enjoy autochthonous dishes, excellent wines, fruit "rakija," and music of "tamburica" players we recommend you to go to one of the "čardaš" along the Danube or "salaš" restaurants in the nearby farms. The wines from Fruška Gora geographical wine region are served traditionally with local dishes.
Novi Sad's plentiful restaurants lean towards typically meat-heavy Serbian cuisine, although fish lovers can try the Mediterranean-influenced menu. For an old-fashioned, traditional Serbian meat blowout, head to ''salaš'' – farmhouse restaurant and try grilled meats – ćevapi, pork neck, and kobasice (piquant sausages).
What to do?
How to spend a day in Novi Sad?
Walk to Liberty Square, the heart of Novi Sad's city center, and a fantastic place to start getting the city's pulse. The City Hall is stunning with its pastel green colors and beautiful neo-Renaissance styling. At the top of the building is a tall tower with the bell of St. Florian, the city's patron saint. In due time, it served to announce the place of the fire in the city by the number of bells.
Opposite City Hall is an exceedingly beautiful roman catholic Church of the Name of Mary, also known as "The Cathedral," with a colorful roof. The Hotel Vojvodina and the Bank of Vojvodina are both wonderful and picturesque buildings with amazing facades. And the main spot on the square is the monument to Svetozar Miletić – famous lawyer, politician, and former mayor of Novi Sad. The square is maybe our favorite place in Novi Sad. It's so wide and open and has all these beautiful buildings, and we just loved it.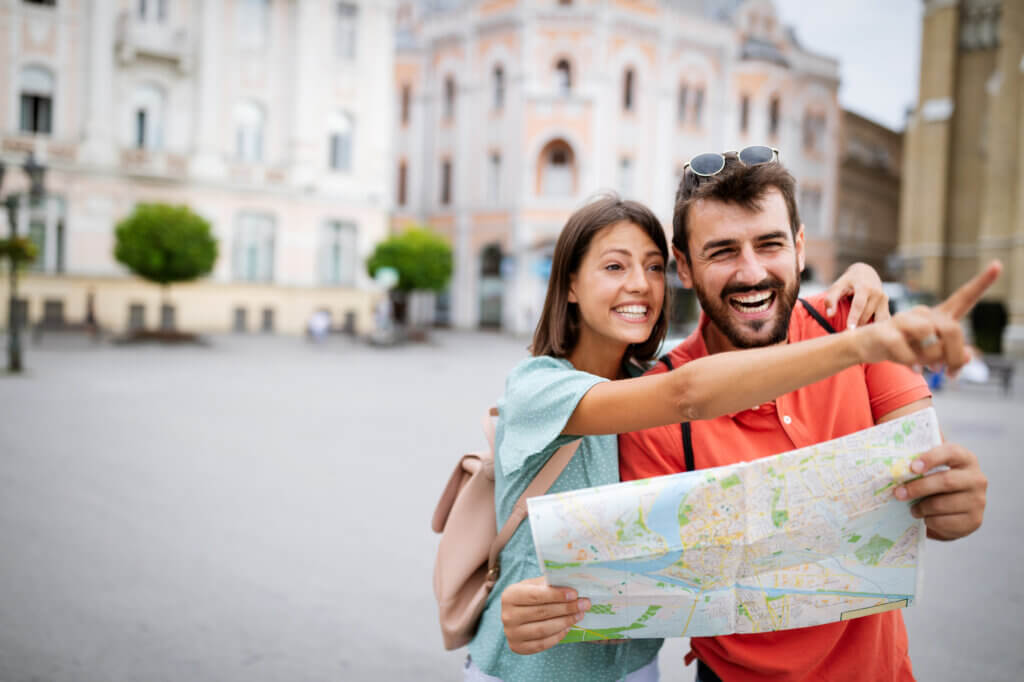 Continuing on your way from Liberty Square, wander along Zmaj Jovina street in the direction of the beautiful peachy-pink Bishop's Palace, an architectural gem that combines some Serbian-Byzantine motifs with traditional monastic elements. It has historical importance as the residence of the Bishop of Bačka (which encompasses Vojvodina) – who still lives there today. Next to it is a baroque-style Orthodox church – Saint George Church dates from 1734. It's definitely worth visiting and admiring the beautiful iconostasis done by famous Serbian painter Paja Jovanović.
Wander on the colorful pedestrianized street of Novi Sad – lovely Dunavska street. It's full of joyful colors, cozy cafes, wine bars, and delightful places to stop and have a snack, gelato, or coffee.
Its enchanting facades and street lamps may feel a bit nostalgic as they lead you to Danube Park, a lovely urban park that is a great place to sit and unwind after some city wandering. Sit on a bench by the lake and rest your feet while enjoying nature at this lovely green space in the heart of Novi Sad.
Seasonal: Visit the summer river 'beach' at Štrand
If you're visiting Novi Sad in the hot summer months and you want to do some relaxing in between your sightseeing, make your way down to Štrand – Novi Sad's urban beach on the banks of the Danube, with soft sand, beach bars, lively music, chairs and umbrellas for rent, and great views of the bridges over the Danube.
Check out popular Serbia summer spots https://www.serbiaincoming.com/magazine/serbia-summer-spots-many-options-to-refresh-and-enjoy/
End the day with the sunset at Petrovaradin Fortress. Whether or not you stopped at Štrand, you'll want to make your way towards Petrovaradin Fortress for a late afternoon wander, and be sure to stay for the epic sunset views! Going up the hill to the fortress through a series of steps and tunnels is really magical, and once you get to the top and see the iconic clocktower – a symbol of Novi Sad – you'll be totally enchanted by the views.
If you are hungry, thirsty, or desperately in need of caffeine, you can stop at the restaurant on the fortress grounds. Time it for when the sun goes down, and you are guaranteed to have a magical meal in Serbia's second-largest city.
Top 3 excursions from Novi Sad
Sremski Karlovci and Fruška Gora monasteries
Sremski Karlovci is a small village, perfect for discovering entirely on foot. Life revolves around the town's main square named Branko Radičević Square, named after the town's greatest poet who lived and worked in this village. This square is home to the town's most beautiful sights. The Four Lions Fountain, which stands directly in the center, is thought to hold the secret to happiness and love for the whole region. The Church of St. Nicholas is believed to be the finest example of the town's architectural style and holds some of the most beautiful relics in the country.
Local wine cellars are part of the centuries-old wine tradition of this geographical region. Its tasty wines hide stories waiting to be told and hedonic sips to be relished during degustation time.
Visit the incredible medieval monastery Krušedol, one of the most significant monasteries of the region, keeps within its walls ancient frescoes and paintings.
Subotica with Palić and wine tasting
On this tour, you will experience the true multiculturalism of Serbia, amazing architecture, and some really tasty wines to appeal to your palates.
Subotica – The City of Subotica is located in the north of Serbia, along the main European corridors and in between two rivers: the Danube and the Tisa. Rich cultural heritage, intricately decorated buildings, multicultural spirit, and its European charm – these are the features that make this city distinctive. Subotica is known for its relaxed atmosphere, good food, and quality wines.
Zvonko Bogdan Winery – one of the most modern wineries in Europe, located in the famous fruit and wine-growing area around Lake Palić and Ludaš. The winery is equipped with modern technology to produce high-quality wines solely from grapes from their own vineyard.
Palić Lake – Palić, the lake, and the settlement by the same name are 8 km east of Subotica. Palić Lake is enveloped in peace and quiet, making it an ideal space for rest and relaxation. Excellent restaurants and cafés, a thermal pool, the cageless Zoo, bike paths, walking paths, energetic cultural life in full swing, and entertainment opportunities in varied shapes and forms make up the comprehensive offer of the Palić Tourist Center.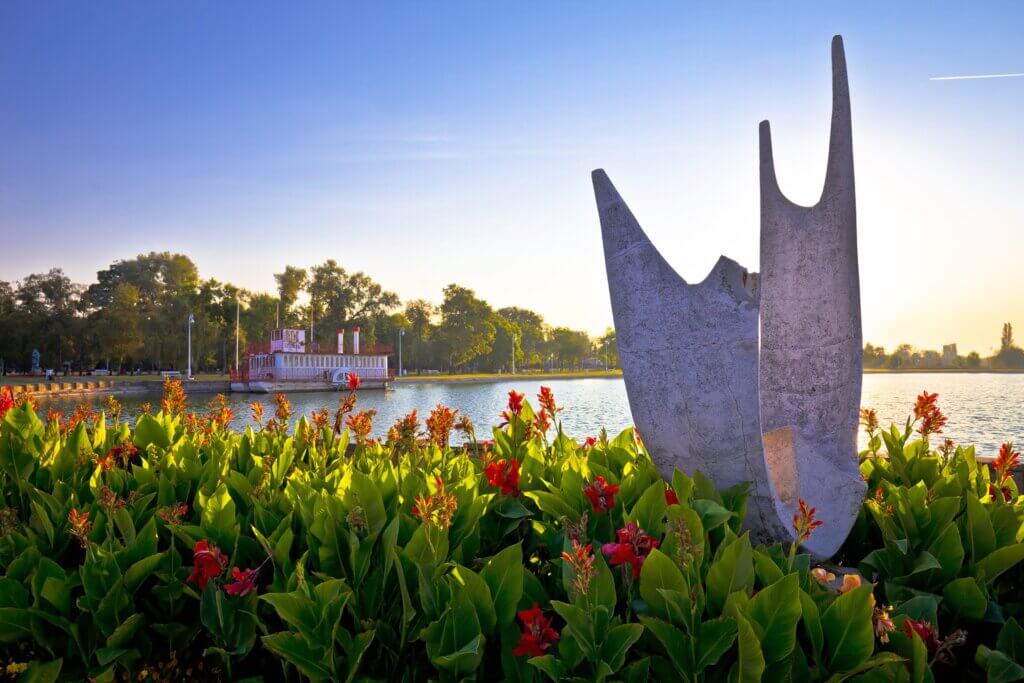 Belgrade
During your stay in Novi Sad, we recommend discovering the Serbian capital – Belgrade; and an ancient city with a charming mix of medieval and modern architecture. Stroll along its lively streets to meet Belgrade's cultural and historical wealth; get to know its legendary reputation of a fantastic host in remarkable world-class restaurants. Visit some of the best shops or simply enjoy a cup of coffee with Belgrade's panorama. Sightseeing of Belgrade gives the first impression of the most important Belgrade sights.
Vojvodina – North Serbia
Destinations
Subotica and Palić
The City of Subotica is located in the north of the Republic of Serbia. Rich cultural heritage assets, lavishly decorated buildings, multicultural spirit, and European charm – these are the features that make this city distinctive. It is known for its relaxed atmosphere, good food, and quality wines. On top of that, Subotica offers a lot of interesting places for rest and leisure, for activities around the lakes, on horse farms, farmsteads, in forests, and hunting areas.
Palić, the lake, and the settlement by the same name are 8 kilometers east of Subotica. Palić offers something new, unrepeatable, and enriching at any season. Outstanding facilities from the beginning of the 20th century.
Sombor
Sombor, a city of rich cultural heritage, guardian of an old tradition, and nurturer of a lavish history in which many artists and poets found their widely known plain peace in which they created their most prominent works.
Sombor is widely known for its greenery, more precisely for the bodies brought from the Mississippi Valley in 1903, and rightly bears the epithet of the greenest city in Europe. We should not forget the old carriage that still wanders the city's streets, maintaining the tradition of the past.
Zrenjanin
Zrenjanin, a medieval town in the heart of Banat, in eastern Vojvodina. Upon entering the city, you will feel a strong blend of past and present, the rich history that we have preserved, and the modern solutions we have created. If you pay attention, you will hear that the population speaks different languages – Serbian, Hungarian, Slovak, Romanian…
Vršac
Vrsac, a beautiful town – a city of art, business, and sports. Located at the foot of the Vršac Mountains, from which the fresh air of the forest and the breath of the vineyards descend, this city vividly reflects both tradition and modernity. The people of Vršac chose only three words to admire their city. Although they were written 165 years ago, they are dear to the people of Vršac. Close to their hearts, they say: "Vršac is a beautiful town."
Sremska Mitrovica
Sremska Mitrovica is the center of the District of Srem. The ancient city of Sirmium, which was located on the territory where Sremska Mitrovica is nowadays, was the capital of the Roman Empire during the Tetrarchy period. It was also called 'the glorious mother of all cities.' Many Roman emperors were born in or near Sirmium. There are popular excursion sites and recreation centers in the National Park of Fruška Gora near Sremska Mitrovica and numerous monasteries of Fruška Gora.
Fruška Gora
Fruška Gora is the biggest mountain in Vojvodina province, not far from Novi Sad, and since 1960 it has also been one of 5 national parks of Serbia. Scientists like to call it 'the mirror of geological past' because of many animal fossils found on the mountain.
Besides that, Fruška Gora is the best place for those who like to explore nature and enjoy the fresh mountain air since it has numerous marked hiking trails. Also, the national park is filled with monasteries, 35 of them to be precise, built in the period from the 15th to 18th century.
Fruška Gora was the inspiration for many great poetry such as: Branko Radičević, Jovan Jovanovic Zmaj, Milica Stojadinović and many others. On the mountain, there are several fortresses, among them the Petrovaradin fortress and tower Vrdnička, built in Roman times and is now in ruins. Apart from monasteries, other cultural monuments are remains of Roman Acumincum in Stari Slankamen, Vrdnik and Ledinci towers, castles in Čortanovci and Beočin, a monument on Iriški Venac, etc.
Fruška Gora monasteries
Fruška Gora isn't known only for being the only mountain in Vojvodina – it has so much more to offer, give, tell and portray. One of such unique stories is the one about the monasteries that decorate the infinite greenery of its deciduous forests. While historical sources state that the monasteries had been built in the first half of the 16th century, legends tell us they originate from a period between the 12th and 15th centuries.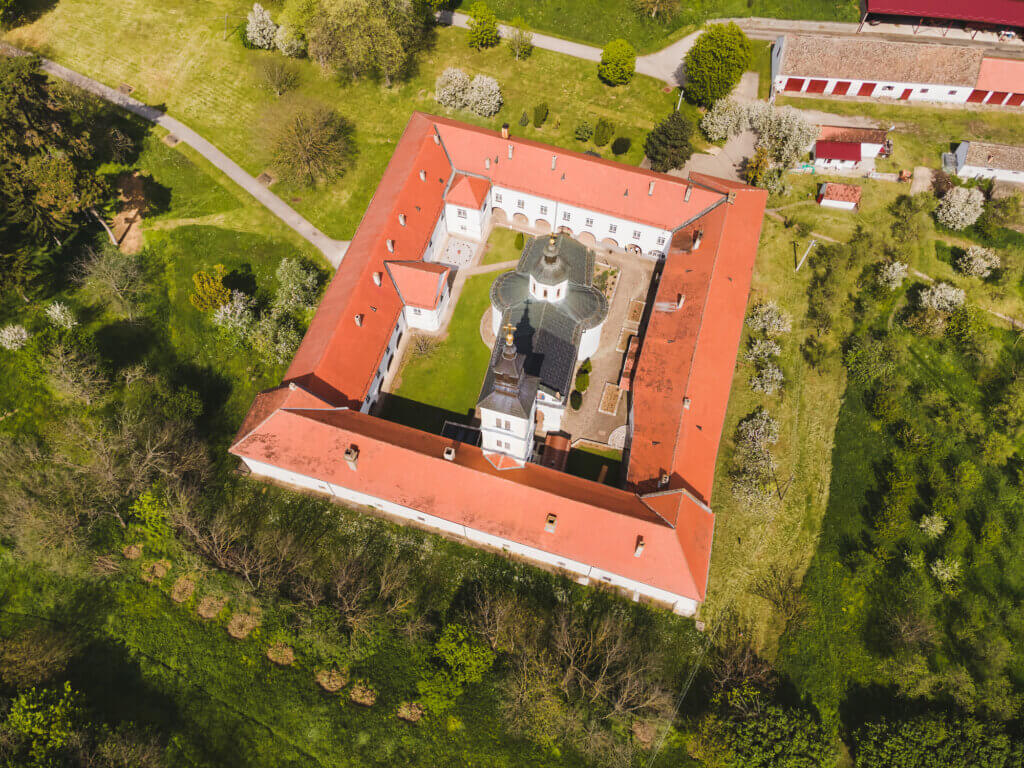 17 monasteries of the Serbian Orthodox Church, spread out across the mountain, were raised as endowments of the Serbian royal family, after which, in the late Middle Ages, under the pressure of the Turks, the center of Serbian spiritual and cultural heritage, moved to the north. Monasteries at Fruška Gora , well-known as Serbian mount Athos are: Beočin, Bešenovo, Vrdnik, Velika Remeta, Grgeteg, Đipša, Jazak, Krušedol, Kuveždin, Mala Remeta, Novo Hopovo, Petkovica, Privina glava, Rakovac, Staro Hopovo, Fenek, Šišatovac.
In monasteries were staying Vuk Stefanovic Karadzić, Dositej Obradović, Filip Višnjić, Karadjordje, and many other famous persons from Serbian history. Apart from monasteries, other cultural monuments are remains of Roman Acumincum in Stari Slankamen, Vrdnik and Ledinci towers, castles in Čortanovci and Beočin, the monument on Iriški Venac, etc.
''Salaš'' – tourist farms of Vojvodina
Vojvodina is famous for its rich agricultural soil and proud history of farming, among other things. What happens when you mix this rural tradition with a little bit of that fantastic Serbian hospitality? In a word – ''salaš''. There are many reasons to visit a ''salaš'' when in Vojvodina, but even more, reasons to organize an overnight stay. Visiting one for lunch will give you a glimpse into traditional ways of life in this part of the world, but it will ultimately be too short a time to get any real idea of the culture and traditions. Tranquility and tradition live hand in hand here on the ranches, and the neurosis and pressure of the capital feel a million miles away.
Learn more about Serbia ethno villages https://www.serbiaincoming.com/serbia/nature/ethno-villages/
Castles of Vojvodina
Castles were once intended for occasional or permanent stays (holiday and entertainment) of richer and richer social layers. These magnificent buildings were built in the 18th, 19th, and 20th centuries, reflecting the brilliance and power of those times and their owners.
Fantast Castle is located near the town of Becej and was built by the landowner Bogdan Dunđerski as his summer house. The castle has one tall square tower with a magnificent view over the plains, surrounded by a huge park, a church, active stables with a horse farm, and some utility buildings.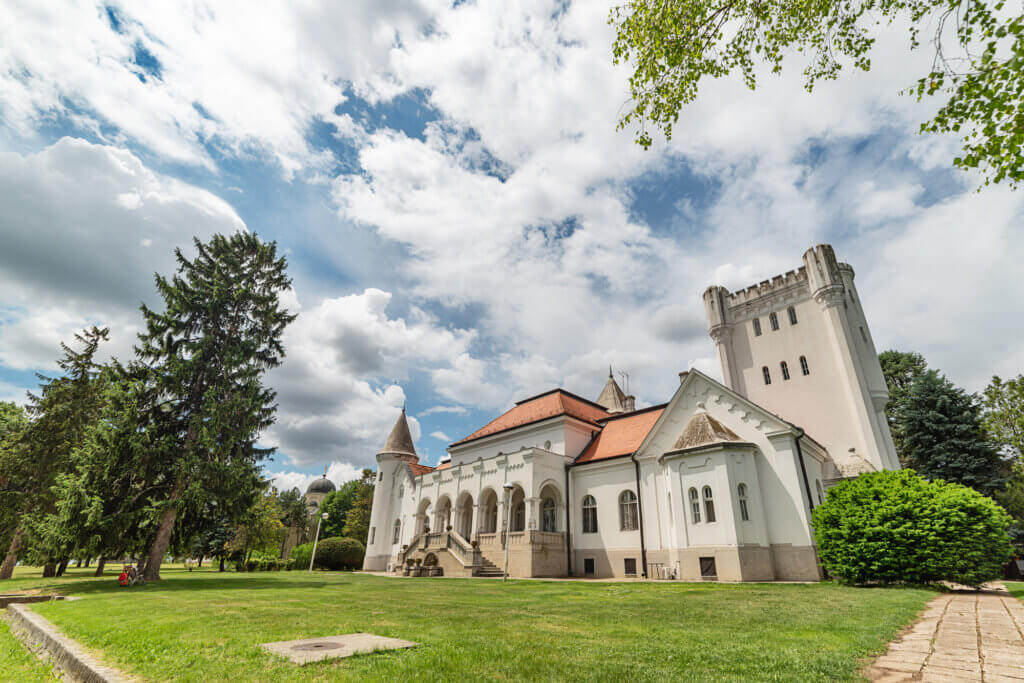 The "Kaštel" castle is situated about 60 kilometers north of Belgrade and only 7 kilometers away from Zrenjanin, in Ečka village. It was built in the English style. Nowadays, this old edifice has been completely redecorated and adapted, so that today it is an object that can offer its guests an unforgettable holiday in the authentic atmosphere, which is inspired by its aristocratic past.
Fortresses
As with many other old European countries, Serbia boasts a rich historical heritage that involved numerous wars and struggles, and as you already know, mighty citadels were the main line of defense during medieval times.
Flaunting unique appearances and stories that spark the imagination, the fortresses of Serbia are undoubtedly deserving of a personal visit, and we would like to recommend you 2 well-preserved fortresses in the Vojvodina region:
Bač fortress is located on the outskirts of a small town in northern Serbia. Bač Fortress is the most important medieval monument in the province of Vojvodina. There are records of a fort at the site dating back to at least the 9th century. The fortress originally stood on a historic island on the Mostonga river—back in those days, it was only approachable by a drawbridge. The fortress that stands in Bač today was built by the Hungarian king Charles I in the 14th century. The castle complex originally had eight towers, along with residences, a chapel, well, barn, cistern, and storage buildings.
Read more on the following link: https://www.serbiaincoming.com/destination/bac-fortress/.
Petrovaradin fortress lies on the right coast of the Danube river, where the picturesque old town of Petrovaradin meets Serbia's second-largest city of Novi Sad. The fortress, whose construction started in 1692, was an important strategic point throughout history. The strategic importance of the fortress has earned it the nickname "Gibraltar of the Danube." Though it's a popular site, most tourists are not aware of the secret underground tunnels hidden beneath the fortress. The underground military galleries—often referred to as the catacombs—create a four-story, roughly 10-mile-long (16 kilometers) network of passageways.
Read more on the following link: https://www.serbiaincoming.com/destination/petrovaradin-fortress/.
Tour
The best way to explore Vojvodina is true cuisine. Vojvodina cuisine is varied and rich, with a lot of meat, vegetables, spices, and fruits. This comes from the wealth of Vojvodina plains, forests, and rivers. Vojvodina cookery is a mixture of different cuisines of the people who have lived for centuries on this territory.
Check out our gastronomy tour: https://www.serbiaincoming.com/travel-offers/tours/mouthful-of-serbia-tour/.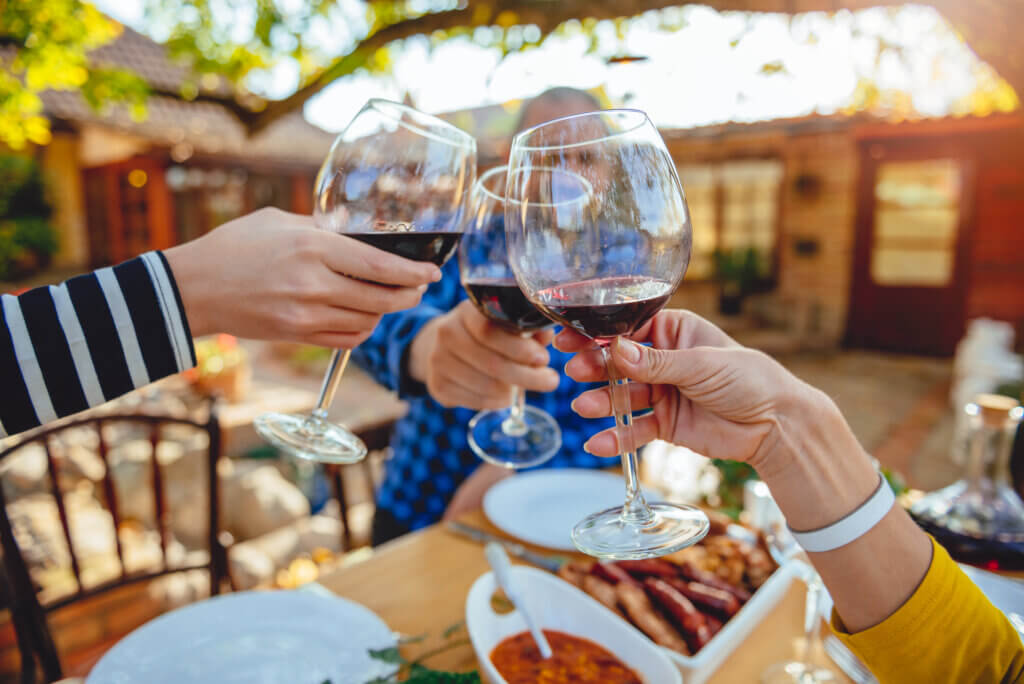 Šumadija – Central Serbia
If you are thinking green and about perfect preserved nature, then Šumadija is a place for you to explore.
Both tamed and wild at the same time, the Serbian central region got its name from thick and prodigious forests. Beautiful hills interspersed with countless streams and rivers make Šumadija one of the most desirable destinations for hiking and recreation.
Destinations
Kragujevac is a significant economic, cultural, educational, and health center of Šumadija, Pomoravlje, and neighboring regions. It is the fourth largest town in the Republic of Serbia, and it wears the title of the city of national importance.
Aranđelovac
Aranđelovac is a fairytale town located beneath Bukulja and Venčac mountains, in central Šumadija as such, Aranđelovac has the ideal climate and relaxing atmosphere in the town and spa. Today, this town is famous for Bukoviča Spa, an appealing spa resort that extends on 24ha together with the park.
Mineral water from the springs of Bukovička Spa is famous in Serbia and the region. Its exploitation and production of soft beverages are significant activities for the economy of Aranđelovac territory.
Besides the famous spa, Aranđelovac is famous for Risovača cave – one of the biggest local archaeological discoveries.
Kraljevo – a town of seven crowns, a city in central Serbia that deserved its name after it was the place of the coronation of seven medieval Serbian Kings.
Among the elfin nature surrounding this peaceful, charming town, down in the valley of river Ibar, keepers of history and witnesses of royalty are rising in all their glory.
Topola
Topola – a small town rich in history tells us a story about the royal family Karadjordjevic, whose history began here. Karadjordje Petrović, the leader of the First Serbian Uprising and founder of Karadjordjević Royal dynasty, was born here, beneath Oplenac.
The biggest tourist attractions in Topola are the memorial complex, comprising of the Saint George Church, Mausoleum of Karadjordjević Dynasty, and the house of the royal family. Famous gorgeous mosaics in the Church and in the crypt are the best achievements of fresco painting in Serbia. The Mausoleum, built by King Petar I, is covered with white marble from nearby Venčac Mountain and from Carrara in Italy. The house of Petar Karadjordjevic was the summer residence of the King.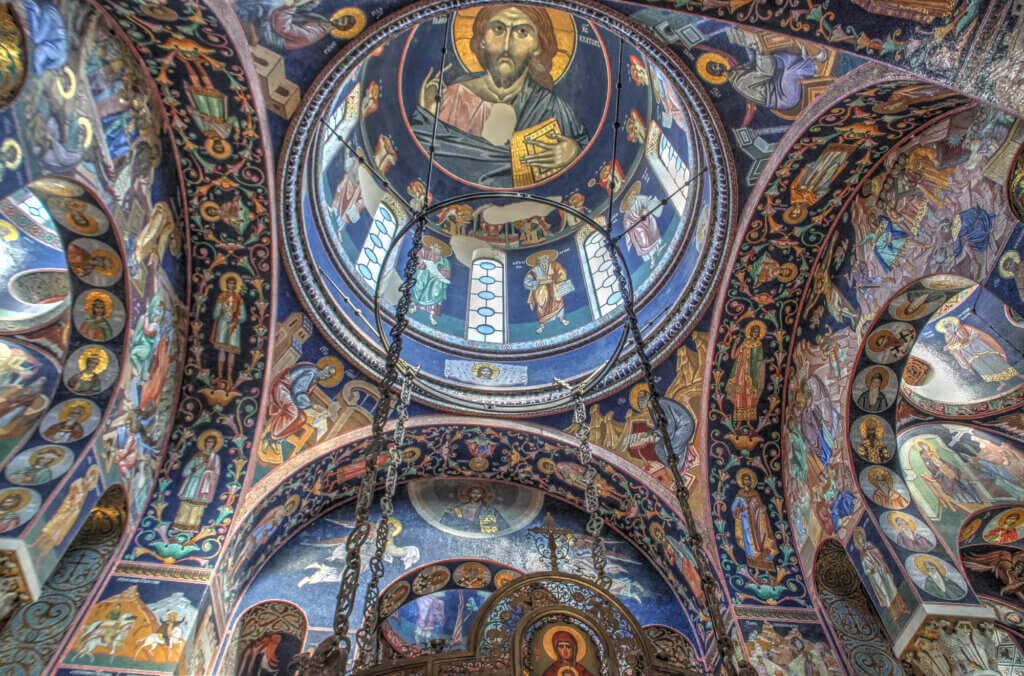 Besides the Royal family, this area is known for the world-famous wine production. When visiting Topola and Oplenac, visit at least one of the famous wineries is a must.
Culture
This part of Serbia is very rich in history and, as such, has an enormous cultural heritage.
As we already mentioned, once upon a time, Kraljevo was a very important city and place where 7 kings had their coronation. All 7 kings were crowned in the Žiča monastery. Listed in the UNESCO World Heritage List, monasteries Žiča, Studenica, Gradac, Sopaćani are living monuments of the culture and religion of this region.
The town of Topola beneath Oplenac Hill is the symbol of Serbian Royal dynasty Karadjordjević, preserving the memory of the Royal family through many cultural monuments. Learn about Serbian heroes who fought for their freedom, feel the sheer beauty of the Serbian heart, explore the magnificent complex of the last Serbian Royal family.
Activities/excursions
This part of Serbia is very well connected with the Serbian capital – Belgrade and all destinations are on approximately 2 to 3 hours ride. Many one-day guided tours are organized the whole year-round.
The most popular is the tour to the Royal Mausoleum Karadjordjevic. There are also many religious tours that include visits to the monasteries of this region.
Keeping in mind that Central Serbia is also rich in thermal waters, a visit to Vrnjačka Spa – the queen of SPAs in Serbia is a must. Vrnjačka Spa is the largest and the most famous resort in Serbia.
As Kraljevo is settled on the Ibar river, very rich in water, it offers several options for adrenaline activities on the water, like rafting and kayaking. As fast mountain river – Ibar is a real rafting paradise.
West Serbia
This is the place where people greet each other by saying "svako dobro" ("best wishes"), and where famous Serbian hospitality reached a completely new level of meaning.
This is where Serbian Ethno-tourism was invented. But not only that – Western Serbia is where Serbian modern tourism has started from… West Serbian Ethno housing covers the whole region – from the very banks of Drina River to the West to the slopes of Mt. Povlen and Divčibare to the East; from beautiful Zasavica Natural Reserve all the way North to Mt. Zlatibor and Uvac gorge to the South.
Destinations
Zlatibor is one of the most favorite resorts for Serbs. Settled in West Serbia, well-known for its specific mountainous architecture, all Mt. Zlatibor objects are specially designed to blend perfectly into the environment.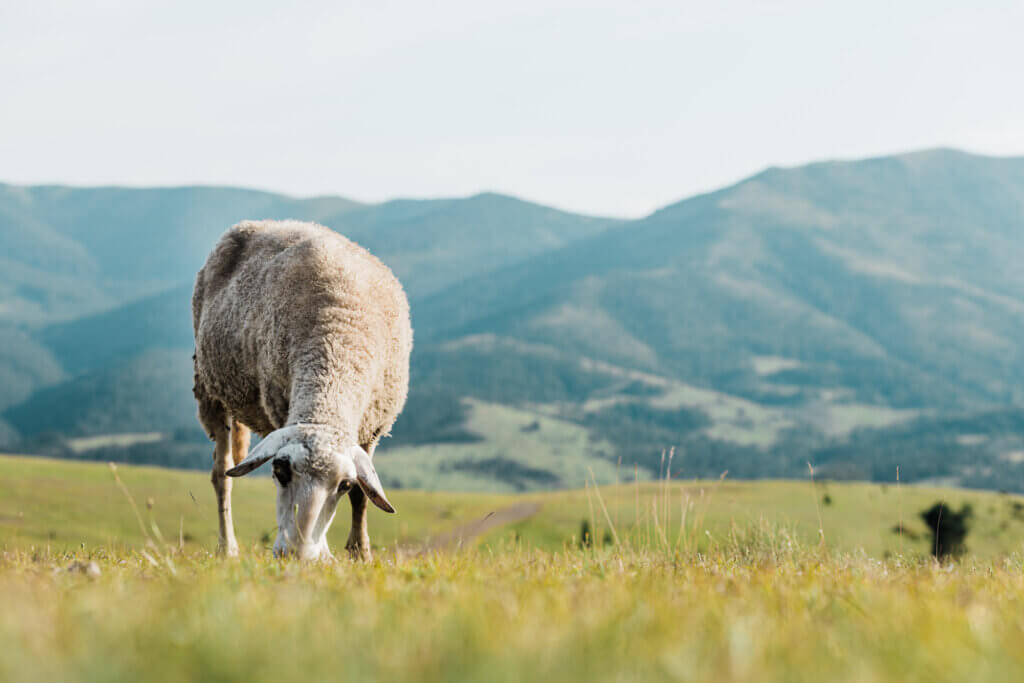 If you are looking for a relaxing holiday with options for recreation, then Mt. Zlatibor will suit you perfectly. Beautiful mountain, rich in many interesting sites, such as Stopića cave, Gostilje waterfall, Sirogojno open-air museum surrounded by beautiful countryside scenery. Thick pine forests gave name to the mountain, meaning "Golden Pine. " Organic food is a trademark of this area, so the gastronomic quality is admirable.
Mountain Tara and National park are located In the far West of Serbia, encompassing an area bounded by the Drina River between Višegrad and Bajina Bašta. Leaning over the beautiful Drina River, Mt. Tara is a true gem of nature.
Tara is a typical forest area an,d for its preservation and diversity of forest ecosystems (many of which are relict), one of the richest and most valuable forest areas in Europe. Tara is considered one of the most beautiful mountains of Serbia, and it is an oasis of intact and well-preserved,d and protected nature.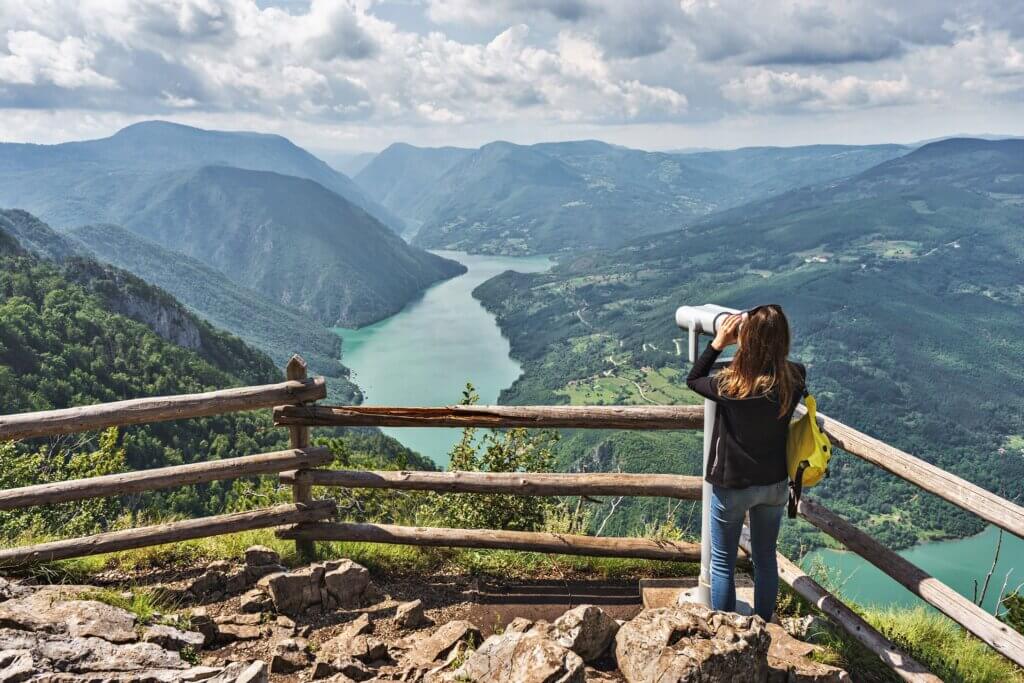 What makes this Serbian Mountain so adorable are landscapes covered by bushy larch forests, meadows, and endless fields.
Uvac
Uvac river is a place where the magic never ends because it is born there and there it lives. It is hard even to try to describe a place like this. Unique, irresistible, charming…so beautiful.
It is a natural southern border of the Zlatibor mountain, and it is the main tributary of the river Lim. At the end of its course, river Uvac is a natural border between Serbia and Bosnia and Herzegovina.
Famous meanders make the Uvac river looks like a glittering maze filled with crystal green water. The largest cave complex in Serbia featuring numerous caves tasseled with pure nature jewelry, halls, and siphon. The best known are Usak cave, Tubićeva cave, and Ice cave. The ornaments in the Ice cave are in the form of drapery and can reach a length and can reach up to ten meters.
Culture
At the westernmost point of Mt. Tara, you will find the greatest ethno-complex in Serbia. World-famous "Kustendorf" or "Wooden Town, "made by our famous film director Mr. Emir Kusturica, provides a unique experience to the visitors.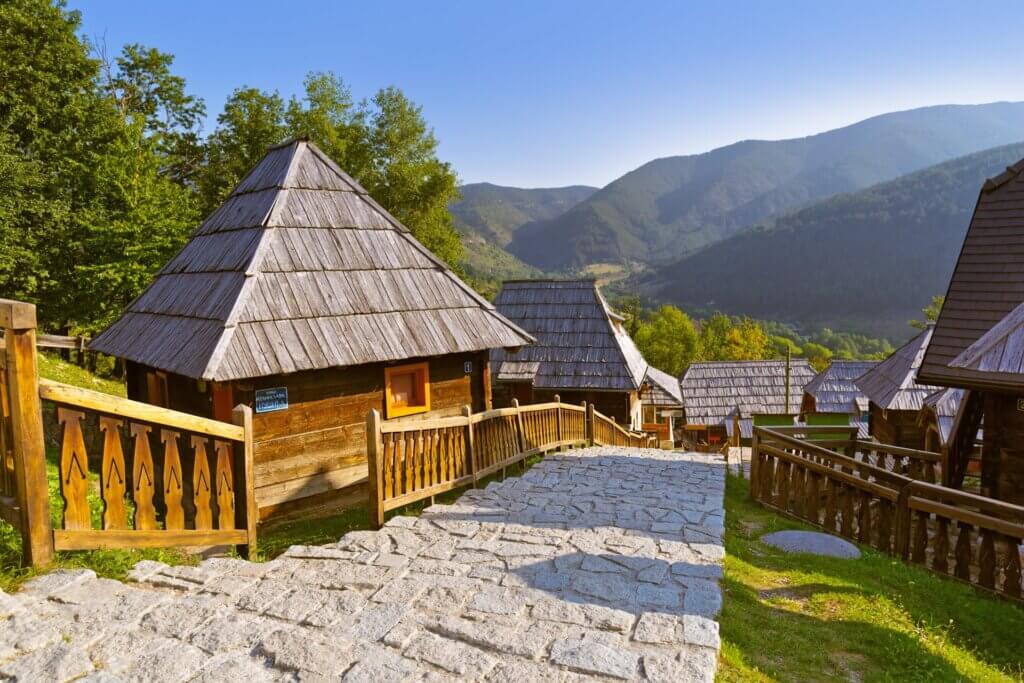 Other cultural monuments of this region are:
Church in Kućani – the oldest representative of log cabin churches in this area. Its gates origin in 1780. dedicated to the birth of the Holy Mother of God.
Log cabin church in Radijevići village – erected in 1808. It treasures precious and well-preserved icons made in wood.
Dubnica monastery – in the village of Božetići, belongs to the type of churches from the XVIII century.
The ethno village of Štitkovo is the museum under the open sky. The church, the houses, and the school preserved the authentic look of the second half of the XIX century.
Kajmakama is the building of the old municipality. It represents a very rare building of Islamic architecture built at the end of the XIX century.
Activities/excursions
When on Zlatibor mountain, numerous programs are organized during the whole year and depend on the season you choose to visit, and you can also choose the activities you wish for.
There are skiing, riding, and swimming schools for kids, while the adults can enjoy long walks among pine trees, fresh air, swimming pools, fitness programs, saunas, massage salons, tennis courts, golf courses, basketball courts, football fields.
Stopića Cave, Potpec Cave, Waterfall in Gostilje village, Open Air "Old Village" Museum in Sirogojno, Uvac and Dubrava Monasteries, log churches in the villages of Jablanica and Dobroselica, art galleries in Borova Glava, Trnava and Sljivovica villages, birth houses of Dimitrije Tucovic and Sava Jovanovic Sirogojno, observation points of Tornik and Cigota are just some of the sights you can explore in numerous organized tours.
Tara mountain is a more peaceful destination, and it is ideal for numerous activities such as hiking, climbing, horse riding, skiing, boat ride, zip line, canyoning, and Perućac Lake. Tara's rivers are rich in fish and suitable for any water sports you can imagine.
There are 5 well-arranged and secured observation points at the Tara National Park, with breathtaking panoramas: Biljeska Stena, Osluša, Sjenić, Banjska Stena, and Crnjeskova.
We can not but mention the most famous attraction of this area – the renowned "Šargan 8" rail track dating from the earliest days of the rail. Wriggling on the slopes of Mt. Tara canyons, this steam train ride provides some unforgettable memories.
Uvac river gives you the chance to explore one of the most beautiful landscapes of Europe – the mountainous meandering gorge, which is the home of the largest European bird of prey – Grifthe fon Vulture.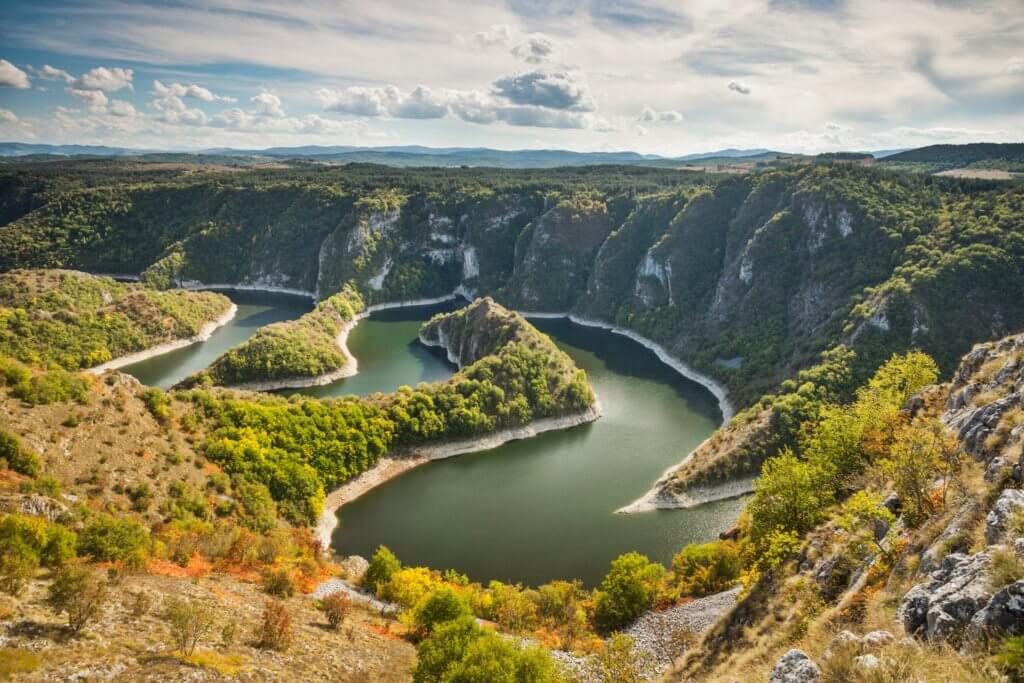 Eastern Serbia
The area of ​​Eastern Serbia is filled with a large number of natural and cultural-historical sights. This is the place where legends were created, where mysteries are revealed. Eastern Serbia offers something at every step. This is an area where the real and the unreal merge, where the most beautiful buildings rise, the most beautiful river spring, and the best wine is produced.
In Eastern Serbia, the best carpets are made, beautiful caves are revealed, the most beautiful food is made. Eastern Serbia is adorned with unusual sights.
Throughout its 2.850 km of flow, Danube has its widest, narrowest and deepest point in Serbia, in an area called Djerdap (translated from Turkish / whirlpool) or Iron Gates. Throughout the gorge, hills and slopes rise from 50 to 900 meters above the Danube. In addition to unusual natural features and a large number of plant and animal species-specific to this area, Djerdap is also an area that has been a favorable place to live since prehistoric times. This is confirmed by many archeological finds and historical monuments, such as Lepenski Vir, Golubac Fortress, the remains of Trajan's bridge, and Trajan's tablet.
Lepenski Vir is one of Serbia's most important archeological sites, and the findings found during archeological excavations date back to the period from 7,000 to 6,000 years BC.
Golubac Fortress, renovated and opened to tourists, is located on the right bank of the Danube at the entrance to the gorge.
*Distance from Belgrade: 177km – approximately 2h 55 min by car.
*Distance from Nis: 204km – approximately 4h by car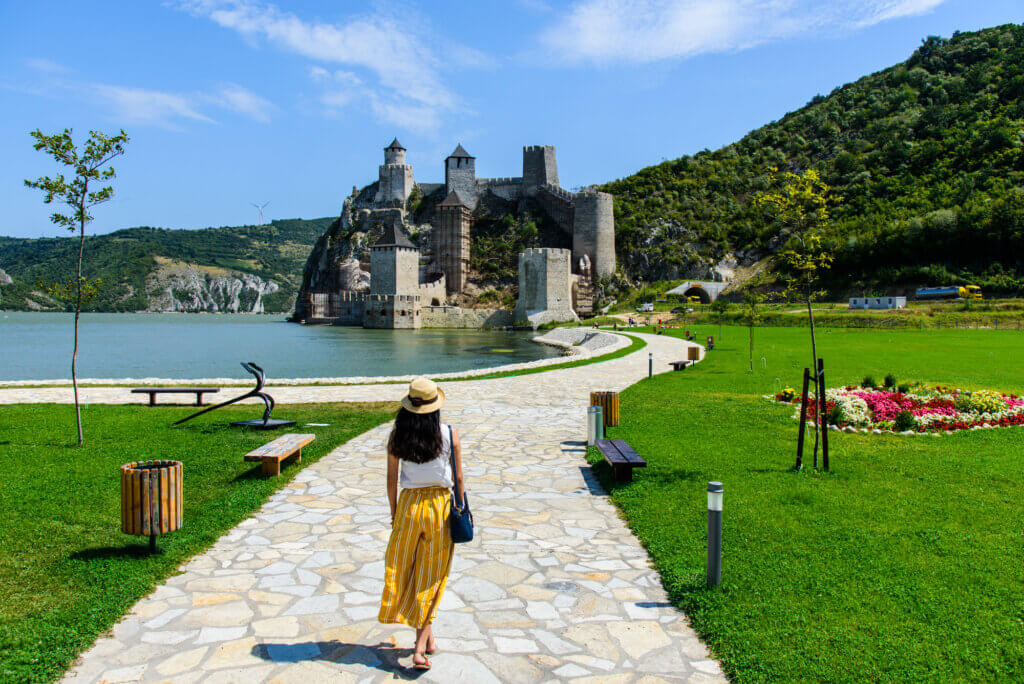 Rajačke pimnice are complexes of wine cellars located about 2 km west of the village of Rajac, at the top of the hill Beli breg. The complex consists of more than 200 buildings, most of which have wine cellars. They are located around the central square decorated with a fountain. They are built of hewn stone and logs and are covered with shingles. The complex was built from the middle of the 18th century to the late 1930s.
Whether due to the specific environment, the way in which the warehouse is produced, or the land from which the grapes are harvested, the wines from this area are renowned for their fabulous smell.
Furthermore, legend says that wines from this region have healing properties and encourage good thinking and even better singing. The most famous white wines are made from varieties such as Smederevka, Bagrina, and White Incense, while red wines are made from Prokuplje, Red Burgundy, and Gamma.
At the southwestern end of the Rajačke pimnice complex, there is a village cemetery with about 200 well-preserved tombstones from the 19th century.
Rajačke pimnice is a candidate for the List of World Cultural Heritage – UNESCO.
*Distance from Belgrade: 297km – approximately 3h 53 min by car.
*Distance from Nis: 140km – approximately 2h 45 min by car
Gamzigrad, also known as Felix Romuliana near Zaječar, is the archeological site of the ancient Roman palace of Emperor Gaius Valerius Maximilianus Gallery.
The palace, which has been on the UNESCO World Heritage List since 2007, was built during the 4th century but was never completed. It was destroyed in the 5th century by barbarians, and Justinian I rebuilt it a century later as a border fortress.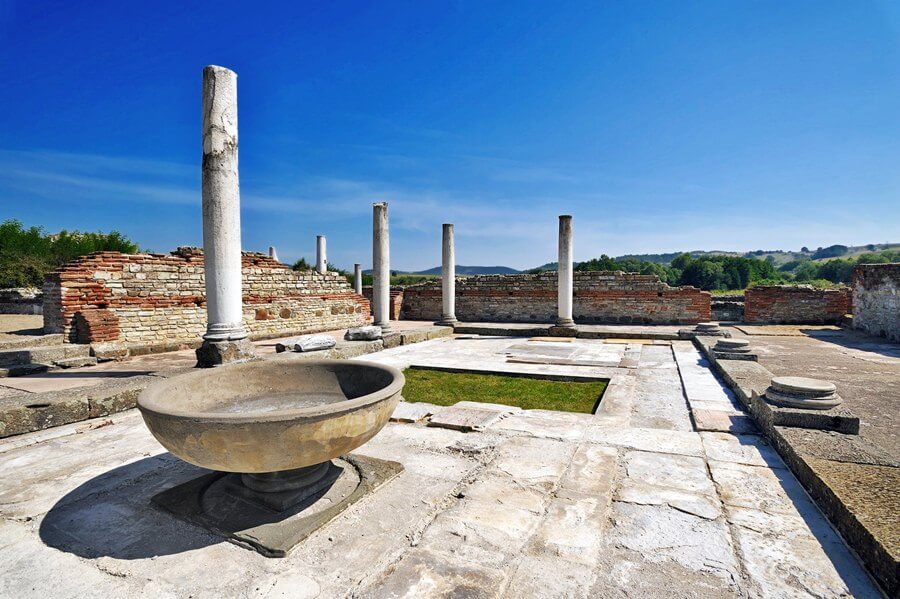 Felix Romuliana, as an imperial residence, was a powerful and large city, with about 20 fortified towers and a magnificent palace with two pagan temples, numerous churches, and floor mosaics is considered the best achievements of late antiquity in Europe.
*Distance from Belgrade: 240km – approximately 2h 50 min by car.
*Distance from Nis: 154km – approximately 1h 54 min by car
Mountain Rtanj belongs to the Carpathian Mountains, with the highest peak Šiljak, which reaches an altitude of 1,565 meters. This mountain is perfect for adventurers. It is known for numerous underground springs, caves, pits, medicinal herbs. It is also well known for fireball natural phenomenon and many other curious and inexplicable things. A special challenge is an ascent to the top of Šiljak, from where there is a view all the way to the confluence of the Sava and the Danube. Mount Rtanj is known for numerous mysteries and legends related to supernatural phenomena.
*Distance from Belgrade: 237km
*Distance from Nis: 73km – approximately 1h 30 min by car
Gornjak Monastery is located in the valley of the river Mlava. It was built in the period from 1376 to 1380. years. This is the endowment of Prince Lazar Hrebeljanović. According to the basic structure, the Gornjak church belongs to the Moravian school of construction. Of the medieval buildings which have been preserved, there is the main monastery church, dedicated to The Presentation of the Blessed Virgin Mary, and the chapel in the cave, dedicated to St. Nicholas.
*Distance from Belgrade 133km– approximately 2h by car
*Distance from Nis: 148km – approximately 2h 20 min by car
Krupajsko vrelo is a real oasis and a natural rarity of eastern Serbia. The spring is surrounded by greenery and tall trees, with the turquoise color of the water, which is why many say that it looks "exotic." The Krupa spring, which is about 40 meters long and 17 meters wide, is especially interesting because of the transparency of the water – up to 6 meters deep, the water is completely transparent. Diving research is also fascinating, revealing that the spring is 70m deep and forms tunnels in a cave. When the divers explored Krupajsko vrelo in 1998, a rope was used that was tied to them so that they would not get lost in a series of passages and tunnels that are underwater.
Krupajsko vrelo and the entire area around it are protected as a natural monument of national importance and one of Serbia's strongest karst springs.
*Distance from Belgrade 150km– approximately 2h 25 min by car
*Distance from Nis: 139km – approximately 2h 06 min by car
Southern Serbia
Destinations
Niš
Niš is the largest city in southeastern Serbia and the headquarters of the Niš district. The Niš city area is home to about 290,000 people, more than 250,000 in the city itself. With that population, it is the third city in Serbia.
Niš has been part of many empires and states throughout its long history, playing the role of administrative, military, and trade center and important transport links on Rome's Via military road later called the Imperial Road, which merged Europe and Little Asia.
The most interesting tourist sights of city Niš are:
The Ottomans built niš fortress at the beginning of the 18th century.
The skull tower is a monument from the First Serbian Uprising, built by the Turkish government in Serbia from the skulls of dead Serb warriors from the Battle of Cegar. It is 4 km from the center of Nis, on the road to Niška Banja. It is classified as a cultural monument of great importance for the Republic of Serbia and is now a museum building.
Medijana an Ancient site on the road Niš-Niška Banja, which testifies to the richness and glow of imperial Nais during the leadership of Constantine the Great.
Leskovac
In the heart of the spacious and fertile Leskovac valley, 50 kilometers long and 45 kilometers wide, is the town of Leskovac full of various geographical and tourist motives and objects. It is an important transit center that connects the south of Europe (Greece), through Belgrade northwestern Europe, through Pristina, the Adriatic Sea, and through Sofia and the Black Sea, the Eurasian Corridor.
Festivities have an almost decisive role in the development of tourism in this region. It is nearly certain that the Leskovac Grill Specialties Festival became a brand name by which Leskovac is recognized beyond the borders of Serbia.
Caričin grad / Iustiniana Prima
Iustiniana Prima, also called the Empress' City, built in the 6th century, is one of the most important Byzantine cities in the interior of the Balkan Peninsula. It is located 29 km west of Leskovac. Emperor Justinian I, who came from southern Serbia, decided to build a city in his homeland that would glorify his name.
Vranje
Vranje is a town in the south of Serbia, the main city of the Pčinja district. Vranje is the birthplace of famous Serbian writer Bora Stanković.
Vranje is located in the extreme south of Serbia, in the valley of the South Morava, 45 km from the Macedonian and 80 km from the Bulgarian border. The city is located on the communication route Corridor 10, which connects Central Europe with the South. Distance from Belgrade 350 km, Nis 120 km, Sofia 170 km, Pristina 100 km, Skopje 90 km, and Thessaloniki 350 km.
Vranje is a modern picturesque city with many details that cannot be found in other parts of Serbia. Many call it "yellow flowers," and it is also known for its specific melodies, folklore, trumpets, and songs.
Tourist places in Vranje:
Hamam Turkish steam bath is an old Turkish bath, built at the end of the 17th century around 1690, now renovated but inaccessible to visitors. The writer Bora Stanković often mentions him in his books.
Markovo Kale is a fortress – a medieval historical monument located 4.5 km north of Vranje. The fortress was built in the 13th century. Today it is in ruins.
Attractions
Prolom spa is one of the favorite places for family holidays in Southern Serbia. It is the ideal spot for recreation and relaxation – in addition to the therapeutic water and mud, there are several outdoor and indoor swimming pools and a well-equipped wellness center. Not far from Prolom Banja is another spa – Lukovska Banja. During the winter months, Lukovska Spa offers visitors the unique experience of enjoying a swim in the hot water pool whilst it's snowing.
After visiting those two beautiful spas, the journey continuous toward Devil's town, a scenic site composed of 202 beautiful natural human-shaped stone formations. This natural monument embraces two rare world phenomena: soil figures as specific relief forms rendering an attractive sight and two wells of strong acidic waters with high mineralization. This geo-morphological phenomenon is a unique occurrence in Serbia and very rare in the world. There are similar occurrences in Europe, but Devil's Town towers are much larger and much more stable, making them one of the most renowned natural monuments of the kind in Europe.
Djavolja varoš – Devils town is a geomorphological phenomenon, located at an altitude of 660-700 m above sea level, surrounded by forests and hills of Radan mountain. It is considered a true miracle of nature due to the fact that it consists of two very rare, natural phenomena. The first is earthen figures, unusual forms of relief that give the Devil's Town a special attractiveness, and the second are two sources of very acidic water with high mineralization.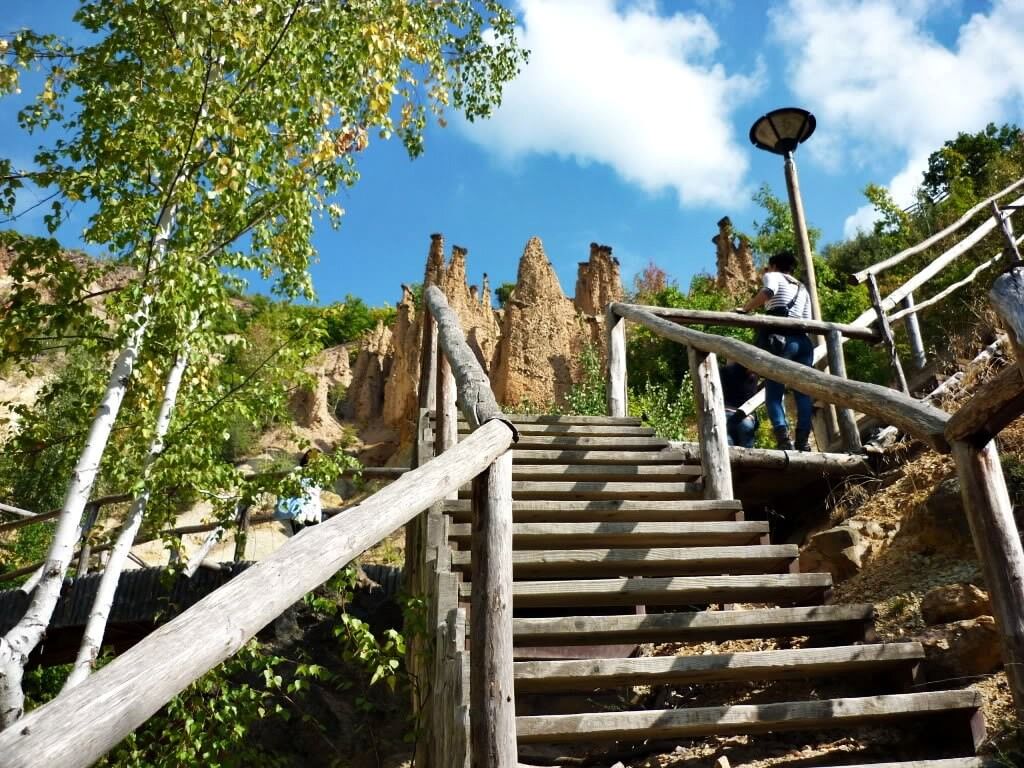 Devil's Town was shortlisted for seven world wonders of nature, although, unfortunately, despite great public support, it did not manage to place among the first seven.
*Distance from Belgrade 321km– approximately 3h 50 min by car
*Distance from Nis: 98km – approximately 1h 50 min by car
Hisar fortress is located on a hill above the town of Prokuplje, which surrounds Toplica on three sides, creating its epigeny. In its present form, the fortification was built in the second half of the 14th century to protect this area from the Ottoman invasion. The oldest traces found at this site belong to the ancient pre-Roman period, and later fortifications were built on a Roman basis. The fortification itself consisted of an oval citadel, protected by a dry moat, on top of a hill around which two ramparts fanned out, within which two suburbs were formed in which the church of St. Procopius from the 10th and the Latin Jug Bogdanov church from the 14th century.
*Distance from Belgrade 260km– approximately 2h 55 min by car
*Distance from Nis: 37km – approximately 35 min by car
Vlasina lake is located in southeastern Serbia on the territory of the municipality of Surdulica, 30 km from the valley of South Morava to the west and from the Yugoslav-Bulgarian border to the south. Located at 1213 m above sea level and covering an area of ​​16 km2, it is the largest and highest artificial lake in Serbia.
Floating islands of peat, scattered on the water surface whose colors range from light gray to dark blue, provide a unique experience. This natural rarity is located on Lake Vlasina, the highest and largest artificial lake in Serbia, known for its clear water, reflecting the endless forests and mountains surrounding it.
Records about the beauty of this lake, created by the confluence of the rivers Vlasina and Vrla, date back to the 18th century. In the immediate vicinity of the lake, there are important cultural and historical monuments.
Lake Vlasina, as still insufficiently known to tourists, is an undiscovered gem – the right place for everyone who wants to spend their vacation in peace, away from the hustle and bustle of major tourist centers. And if you come here, you will be able to say that you have also seen something really unusual – real "floating islands" apart from the beautiful nature and cultural monuments.
*Distance from Belgrade 349km– approximately 4h 10 min by car
*Distance from Nis: 126km – approximately 2h 25 min by car
At 20 km from the main road Belgrade-Thessaloniki and 30 km distance from Vranje, there is one of the oldest Serbian shrines – the monastery of St. Prohor Pcinjski. Located at the foot of Mount Kozjak, overgrown with oak forests, full of wildlife and numerous springs, in an area of ​​extraordinary climatic characteristics, the monastery lives its turbulent life of nine hundred years. Demolished and burned, attacked and looted, now renovated, it is visited by tourists and pilgrims from all over the world who are attracted by the secrets of the monastery chambers, but also by the untouched beauty of the ambiance of the area, traditionally known as the air spa.
Nine centuries have passed since the Byzantine emperor Roman Diogenes (ruled from 1067 to 1071) built this monastery and dedicated it to Father Prohor.
*Distance from Belgrade 372km– approximately 4h 10 min by car
*Distance from Nis: 149km – approximately 1h 50 min by car
One of the largest and most important Byzantine cities in the interior of the Balkans is the archeological site from the 6th-century Justiniana Prima (Empress' city), built 7 kilometers from Lebane, in the south of Serbia. It was built by a great founder, Emperor Justinian I, who was born in that area, and is also known for completing the construction of the famous Church of Holy Wisdom, today the Hagia Sophia Mosque in Istanbul.
Justinian decided to build a city that would glorify his name in his hometown, at the confluence of the river Caricina and Svinjarica, 30 kilometers from Leskovac.
The Empress' City was built on the site of the autochthonous hillfort of Bederiana. This is supported by the remains of a monumental basilica with an authentic Justinian monogram and a large episcopal basilica on the acropolis.
In addition to profane buildings, ten basilicas were discovered in the city. Raised on gentle slopes that descend from the mountain Radan to the Leskovac valley, Caricin Grad spreads on a plateau of 42,000 square meters.
Tours/excursions
Manasija monastery, Resava cave, and Lisine waterfall
This tour includes first visiting the Manasija monastery, which is a Serbian Orthodox monastery founded by Despot Stefan Lazarević between 1406 and 1418. The walls around the monastery are forming fortress, and the frescoes inside of the monastery are the best Byzantine decoration from the 15th century. The church is dedicated to the Holy Trinity. It is one of the most significant monuments of medieval Serbian culture, and it belongs to the "Morava school".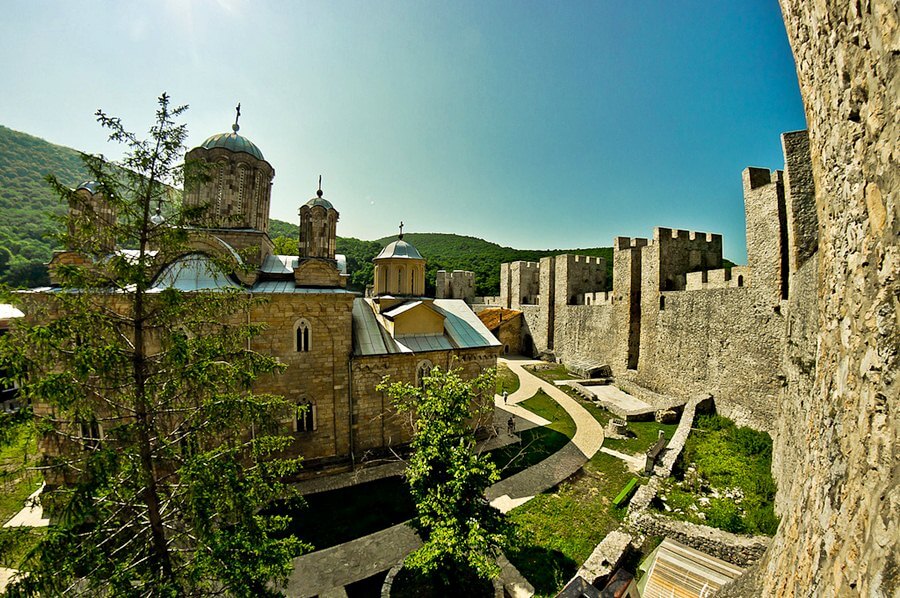 Resava Cave is one of the oldest in Serbia, whose existence estimate to 80 million years, with the oldest cave ornaments date 45 million years back. Decoration in the form of stalagmites and stalactites is something splendid and for sure will live the mark in your memory. The Resavska Cave is very rich in cave ornaments, various shapes, and colors of exceptional beauty. The average temperature is 7 degrees Celsius, and the humidity varies between 80 and 100 %.
Waterfall "Lisine" is a monument of Nature located on the slopes of the Mountain Beljanica. The spring with a watercourse and the waterfall makes the Geo-morphologic complex of picturesque beauty and provides Serbia's unique natural value. The waterfall is located on the right tributary river Vrelo of the Resava river, near Resava Cave on 380 meters above sea level.
Kosovo
Fascinating land at the heart of the Balkans that rewards visitors with welcoming smiles, charming mountain towns, incredible hiking opportunities, and 13th-century domed Serbian monasteries, just for starters. It's safe to travel and indeed is one of the last corners of Europe that remains off the beaten track for travelers.
Mountains on Kosovo and Metohija form natural borders between Albania to the west and FYROM to the South. Mountain range Prokletije has the highest peaks in Serbia, with 2.656 meters of Djeravica as the highest Serbian point. The southern mountain range of Šar Planina is one of the most famous ski-resorts in Ex-Yugoslavia, with dozens of ski tracks.
Information
Kosovo unilaterally declared independence from Serbia in 2008, with the support of NATO, and while 110 countries have diplomatically recognized it, there are still 82 nations that do not accept Kosovan independence, including Serbia, Russia, China, Brazil, etc.
Culture
We consider it a cradle of our nation. A vast number of churches and monasteries are among the most valuable historical sites in Europe. That is why some of the most beautiful monasteries from Kosovo are enlisted as Serbian UNESCO Cultural Heritage.
Hundreds of Serbian Medieval fortresses are spread through plateaus and hills of Kosovo and Metohija. The first Serbian Patriarch's Court was founded here, in the town of Peć, all the way back in 1346. However, by 1389, after the epic Battle of Kosovo, Serbia began to fall to the powerful Turkish Ottoman Empire, which ruled the region for the next 500 years.
---
Thank you for reading, we hope you got a lot of valuable info. If you need a tailor-made Serbia experience designed by Serbia travel experts get in touch with us.