Planning a trip to Serbia soon? You won't want to miss visiting World Heritage sites for a taste of this country's cultural and historical gems. As part of UNESCO's World Heritage list, Serbia holds four properties: Gamzigrad-Romuliana, Palace of Galerius; Medieval Monuments in Kosovo, Stari Ras and Sopoćani; and Studenica Monastery. The World Heritage List, comprised of 981 properties, makes up part of the cultural and natural heritage considered by the World for the United Nations Organization for Education, Science and Culture. Founded in 1945, it boasts Heritage Committee to have "outstanding universal value," according to the UNESCO website. UNESCO stands for more than 200 members and associate members, and works to promote peace, eradicate poverty, promote sustainable development and encourage intercultural dialogue.
Each site has a unique place in history, offering historical and cultural significance to tourists and residents alike. Here's a bit of insight into each place, and what makes it so important to the backdrop of this surprisingly beautiful country.
Gamzigrad-Romuliana, Palace of Galerius
Commissioned by Emperor Caius Valerius Galerius Maximianus, this palace was built in the late 3rd and into the early 4th centuries as a tribute to the emperor's mother. Inside, you'll find an eclectic mix of basilicas, temples, a palace, fortifications, memorial complex and a cubic monument called a tetrapylon. An interesting blend of ceremonial as well as memorial functions, the Palace of Galerius offers a unique spatial/visual relationship between the two, symbolized by the placement of tetrapylon between the fortifications and monuments. Take time to admire the amazing architecture, a testament to the Roman construction tradition of the times.
Medieval Monuments in Kosovo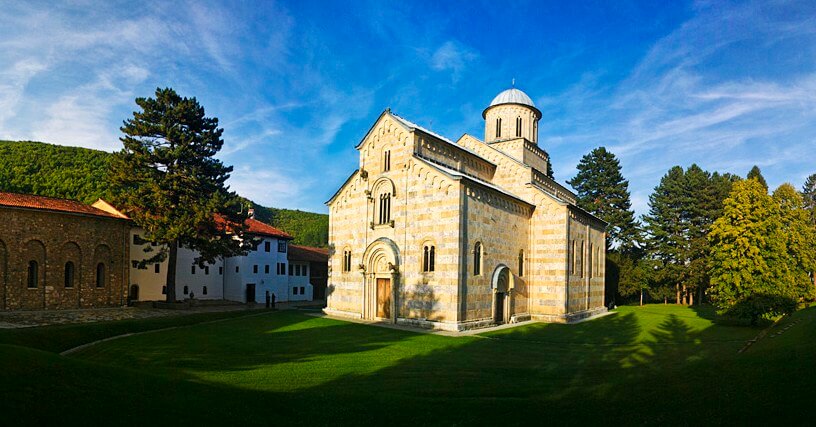 These four churches and monasteries, a tribute to the Byzantine-Romanesque ecclesiastical culture, offers unique wall paintings harking back to the 13th and 17th centuries. They include the Dečani Monastery, built in the mid-14th century for the Serbian king Stefan Decanski; the Patriarchate of Peć Monastery, comprised of four domed churches; Our Lady of Ljeviš, a Serbian Orthodox Church located in community of Prizren; and Gračanica, a Serbian Orthodox monastery built by Stefan Milutin in 1321.The murals and frescoes feature breathtaking ornamentation with colors that are still vibrant today.
Stari Ras and Sopoćani
Stari Ras, the first capital of Serbia, features a gathering of fortresses, churches and monasteries, with the monastery at Sopoćani, in particular, paying eternal tribute to the connection between Western civilization and the Byzantine world. Located atop a hill where Raška and lbar meet, this ancient Balkan town represents an important crossroads in history, where East meets West.
Studenica Monastery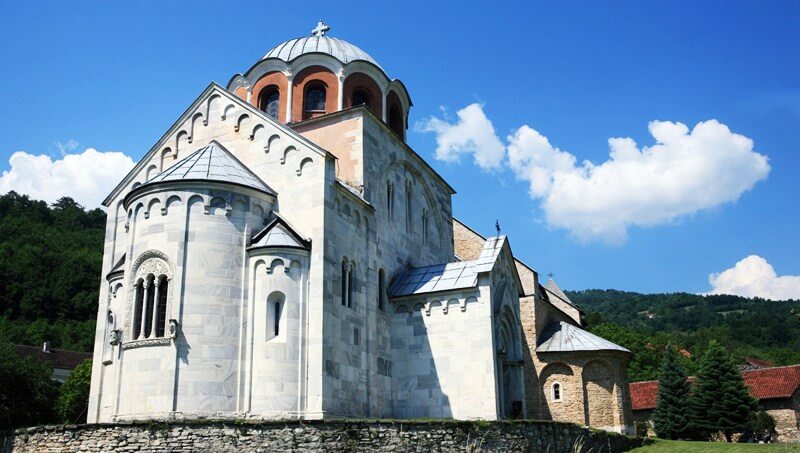 Built in the late 12th century, this Serbian Orthodox monastery is the largest and richest of all, constructed by the founder of the medieval Serb state, Stevan Nemanja. It features two main monuments, including the Church of the Virgin and the Church of the King. Admire the pristine white marble, brickwork and priceless 13th- and 14th-century Byzantine paintings of this architecturally significant monument, surrounded by a circular wall. Farmland stretches into the distance and the sloped forests are filled with broadleaved trees and conifers.
While touring the countryside of Serbia admiring these four certified sites, you may also want to check out the 11 tentative sites that have been submitted for consideration into UNESCO's World Heritage List.
Djerdap National Park
Comprising parts of the Djerdap Canyon, a.k.a the "Iron Gates", this stunning national park incorporates the central part of the Danube river course, split by the Yugoslav part to the south and Romanian part to the north. The total area is 63.600 ha, with an additional 93.968 ha of protection zone.
Deliblato Sands Special Natural Reserve
These dunes of yellow and gray sand make up a geo-morphological formation of historical significant sand masses, located in the southeast portion of the Pannonian Plain. Formed during the Glacial Age, these are considered to be the largest European continental sands.
Mt. Šara National Park
This park, featuring hundreds of vascular plant species and diverse ecosystems, showcases rolling hills, streams, rivers, meadows, wilderness and wildlife. The many peaks of this majestic mountain look down on 27 crystal clear glacial lakes.
Tara National Park with the Drina River Canyon
Marked by towering limestone walls, Tara National Park is a mountainous region that follows part of the Drina River. Cut by deep canyons, this area is most known for its rare conifer species Pancicts spruce. Don't miss the deep caves, waterfalls, wildlife and impressive peaks. Thrill seekers can take an unforgettable rafting trip on the Drina River Gorge.
Djavolja Varoš (Devil's Town) Natural Landmark
This amazing rock formation sits on Radan Mountain near Kuršumlija, boasting more than 200 earth pyramids which were created by erosion after volcanic explosions millions of years back.
Fortified Manasija Monastery
A quaint countryside site, this Serbian Orthodox monastery was built in the early 1400s, and pays tribute to the Holy Trinity. A breathtaking example of Medieval Serbian culture, it's enveloped by impressive walls and towers that protect it.
Negotinske Pimnice
This settlement comprised of wine cellars borders Bulgaria and is located in Negotin Frontier, best known for its ancient vineyards. These cellars carry a lot of history, as they were used to turn grapes into wine and brandy. Integral to life in the village, these cellars were often built sturdier and more elaborately than the villagers' own homes.
Smederevo Fortress
A stunning product of Serbian military construction, this fortress is one of the biggest in southeast Europe. It was built as a temporary capital of Serbia in 1430, meant to replace Belgrade, which had fallen during medieval times. The fort withstood many battles between Serbs and Ottomans, today acting as a preserved tribute to medieval Serbian rulers.
Caričin Grad – Iustiniana Prima, archaeological site
An ancient fortified city built on rock formations, this archaeological site sits on the slopes of Mount Radan overlooking Leskovac valley. Ongoing excavations beginning in 1912 have revealed that this site was built by the Byzantine emperor Justinian I (527-565). It featured several settlements and segments, such as the "Acropolis," and the Upper and Lower Town.
Historical place of Bač and its Surroundings
Bordering the Pannonia plain and Danube regions, Bač is home to lush forests, ponds and marshes, each with their own ecosystems, habitats and even endangered species.
Stećak's – Medieval Tombstones
These medieval monolith stone monuments, created in the 12th century, have been found scattered throughout Serbia as well as Bosnia and Herzegovina and other countries. They total 60,000 or more, and are thought to have disappeared during the Ottoman Empire. They feature cryptic epitaphs adorned with decorative motifs of anything from rosettes and spirals to crescent moons and suns.