In Belgrade every day is treated like Friday – people think nothing of clubbing through the night and going straight into work the next morning. That may sound unimaginably hedonistic to people from a nation where almost everything shuts at 11pm, but Belgrade's all-night bars and clubs and very cheap booze. Serbs never go out before midnight to nightclubs, so your evening should start in one of the trendy bars or restaurants!
A lot of nightclubs, bars and floating river clubs along the riverbanks make Belgrade nightlife some of the most exuberant in Europe. Clubs and bars in Belgrade compete with the rest of Europe in their decor and taste in music. With some located inside the walls of the Kalemegdan Fortress, hidden in passages or up stairwells, they serve up world-class live and DJ music and often stay open well into the late hours for a stylish clientele that knows how to have fun.
Belgrade Party & Nightlife Examples
We really can't list them all, and here goes our selection of party clubs in Belgrade that are great representatives of nightlife options.
Beton Club
Club "Beton" is a Belgrade nightclub designed for the lovers of the electro sounds, lead by a great and it is located in Beton hall, at 2-4 Karadjordjeva street, in the municipality of Savski venac.




First opened in November 2014, presenting something new and refreshing to the Belgrade nightlife scene. Interestingly enough, opening of the club happened when taverns (or kafana in Serbian), in which domestic folk music prevails, were in expansion and were outnumbering all the other modern clubs. Despite all of this competition, "Beton" maintained its place on the top lists of Belgrade nightclubs where all electro music lover can find their place.
"Beton" parties guarantee you a night you won't forget, and be sure you'll want to come back for more. Because of the increased interest for "Beton" club, it is recommended that you make your reservations in advance.
Tilt Club
Club "Tilt" is a new place in the city and it represents a winter equivalent of the river club "Freestyler". Experienced group of owners lead this club to the top lists of Belgrade's most popular clubs. Known for excellent parties, top quality DJs and performers and the most beautiful girls.
"Tilt" is located at the Sava port, in the Beton hall. All of our guests will have a chance to enjoy listening to various music genres, and some of the city's best clubbing. The club was opened on December 12th 2014.




Working hours start at midnight, and end around 5 AM. Music genres catered at the "Tilt" are house and disco music. Making sure music gets you on your feet, behind the DJ counter is the famous duo, DJs Mirko and Meex. Working days usually include Thursdays, Fridays and Saturdays. One of the greatest parties is the Freestyler's party series, called "Belgrade Banging".
Club "Tilt" is an exclusive spot, and you have to be dressed accordingly in order to attend its parties. The dress code is elegant. The interior is rather modern, with lots of shiny objects, so it resembles many of the world's famous clubs. It is a personal favourite among many celebrities from Serbia and Balkans. You will find that the staff is extremely professional and efficient, since you will never find yourself waiting a long time to get your order. We are always on top of the game, aiming to please our guests.
Something that will definitely catch your eye is the interior decoration. In the center of the club is a large bar, surrounded by a top quality lighting system. The sound system is also top notch and you will definitely be delighted to hear that your drinks are prepared by the top bartenders while you get a chance to enjoy the quality electro, underground and mainstream sounds. Our bartender are truly the masters of their trade, so you can expect only the best cocktails, or indulge yourself with all the kids of beer, liquor, vodka, whiskey, and other various drinks. Seductive go go dancers are also hired to bring the heat to the next level.
Why should you choose to visit "Tilt"?
A winter equivalent of the best club on the river – "Freestyler"
You can get a chance to meet positive people
The drink are superb, staff is pleasant, and the go go dancers are seductive
A place Belgrade was in desperate need of – until now
The club Tilt the concrete hall you can expect spectacular entertainment, and hurry up, book your place for free and make your holidays unforgettable!
Club Underground
Club Underground is a legendary Belgrade nightclub, which for years survives as a place where one can hear the quality of electronic sound and dance until the early morning hours.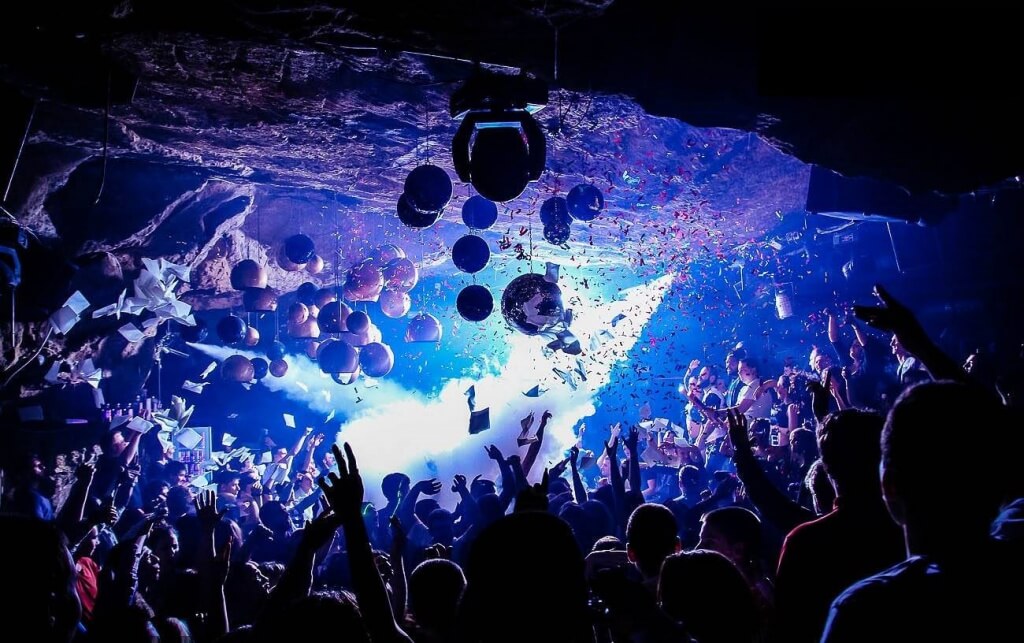 From this season will be known for its famous parties Saturday called GET LOW, when you will be able to enjoy RnB and hip hop night out. Expect a variety of novelties and surprises every Saturday at Club Underground.
Resident night DJ's Architect, and Get low readings are recognizable and attractive and above all professional girls, which contribute to the crazy atmosphere. Feel the energy you provide only Get low party Saturday at Club Underground.
Industry bar
"Industrija" bar is located in the popular new urban neighbourhood Savamala, at Karadjordjeva street.
This bar will certainly bring a new vibe to the popular neighbourhood with its modern interior, best cocktails, and disco-house sounds.




During the day "Industrija" bar presents a great choice for your morning coffee or a quick drinks with your friends with a relaxing view to the river. But during the night, "Industrija" transforms into a nightlife party destination where you can relax with your favourite beer, wine or some of our numerous cocktails. While dancing to the sound of jazz, disco and house beats, you will realise that this modern new place will soon become your favourite nightspot.
We definitely recommend that you come and visit "Industrija" bar and experience yourself the positive vibe it owns.
Tavern Lumperaj
"Lumperaj" tavern (kafana) is located near the Student campus, so the fact that it is always fill with energetic, young people, is not surprising. This energy is the spirit of "Lumperaj" tavern,  and it will definitely leave a lasting impression on you. A place where you are always welcome  to visit and have a great time.




The wooden interior, relaxed atmosphere and an always cheerful crowd will make you want to come again and again. The only rule is that smiles are mandatory, and if you just don't feel like it, we are here to cheer you up, and get you in the right mood.
If you a in search of a place where you can relax, and feel welcome, come and visit "Lumperaj" tavern.
---
If you are planning to explore Belgrade night life, and go and party in the best Belgrade clubs in VIP style, and if you want the very best tables in the heart of the party, with entrance to clubs with no waiting in lines, then our service might be right choice for you.