If you want to reveal a peaceful town in a beautiful Serbia that looks like a place from a fairy tale than you are just about to meet Novi Sad.
If you are looking for sights or great food, or maybe you want to try a crazy nightlife you are on the right track.
Known as the Serbian Athens, Novi Sad has been built, destroyed and rebuilt over the centuries and is an interesting mixture of old Serbian cultural heritage, Austro-Hungarian architecture and scenic beauty. It was founded in 1694 and its name means new plant.
The city sits on the banks of the Danube River. It is surrounded by fertile farms and vineyards and framed with hills in the distance.
Rich in tradition
During the 18th and 19th centuries, it became an important trading and manufacturing center, as well as a center of Serbian culture, earning it the nickname Serbian Athens. During that time, almost every Serbian novelist, poet, jurist, and publisher had lived or worked in Novi Sad at some point in their career. Some of these cultural workers included Vuk Stefanović Karadžić, Mika Antić, Đura Jakšić, among others. The Serbian National Theatre, the oldest professional theatre among the South Slavs, was founded in Novi Sad in 1861.
Today, Novi Sad is the second largest cultural center in Serbia, after Belgrade. Some of the important cultural events are "Sterijino pozorje" theatre festival, Zmaj Children Games, International Novi Sad Literature Festival, Novi Sad Jazz Festival, and many others. Novi Sad also hosts a fashion show twice a year, attracting local and international designers.
Capital of Culture
And of course, probably the most famous one is definitely the EXIT festival.
EXIT is the biggest music festival in South-Eastern Europe. EXIT has taken place at a beautiful and magical fortress in Novi Sad since 2001. Year after year, the number of visitors gets bigger as young people come from different parts of the country and Europe. Apart from the quality of the music program that it offers, the festival is a place of fun, and you can enjoy the cool atmosphere of the fortress and the positive energy of the city.
In 2019 the city has entered a competition and is waiting for a prestigious prize in 2021 known as The European Capital of Culture.
The European Capital of Culture is is a city designated by the European Union (EU) for a period of one calendar year during which it organizes a series of cultural events with a strong pan-European dimension.
Novi Sad is the economic center of Vojvodina, the most fertile agricultural region in Serbia. The city also represents one of the largest economic and cultural hubs in Serbia.
But except for it is cultural, historical and economical values there is one more reason to visit this peaceful town.
Food and wine lovers heaven
Known as big food lovers people from Vojvodina not just like to taste but also to make fantastic meals.
Cuisine from this area is recognizable and delicious. So you should not miss traditional dishes like ćevapi, burek, kajmak, sauerkraut, bread rolls, and beans, as well as fish dishes, local cheeses, and charcuterie. Many of the households and the restaurant offers fresh products from their own farms.
Not far from Novi Sad is a mountain Fruška Gora, a popular place for making a field trip. This lovely mountain enjoys protection by the state, as it has been proclaimed a national park. Pastures, orchards, and vineyards adorn its slopes, and the higher parts are covered with dense deciduous forests.
You may relax your senses with remarkable vines from regional vintages from Fruška Gora's wineries.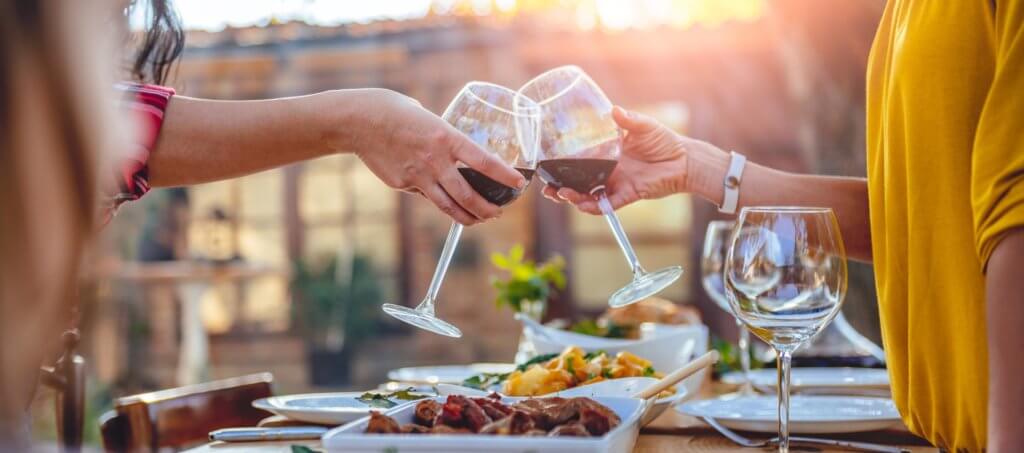 Of course, if you rather prefer modern cuisine, it is always available in restaurants in the town.
Except for restaurants, there are numerous locals, clubs, and cafes in the Novi Sad, and the city is well known for its nightlife.
Some of the most recognized sights in Novi Sad are the Petrovaradin Fortress, Liberty square, Dunavski park, Dunavski street, Theatre Square, Tanurdžić Palace, and numerous museums and galleries, Fruška Gora monasteries, farmsteads.
Great fortress overlooking the city
It's a great walking city for sightseeing with one of the highlights being the Petrovaradin Fortress sitting high atop the Danube River. While it was originally established as a Roman fortress, most of what you see today dates back to the early 18th century. The Fortress is a center of art today with studios showcasing the work of local artists, the Art Academy, cafes, walking routes and underground corridors. The real attraction is the panorama which can be enjoyed from the heights of the Fortress.
Novi Sad is a tourist destination of authentic experiences that should not be missed.