If you are a true romantic you will find the beauty of love in every corner of this enchanting world. With that spice on the top, everything tastes so much better. Especially food. And Love. Or maybe both of them, together.
But sometimes all you need is to relax and to let the others take care of everything.
That is why we have chosen Top 5 Restaurants in Belgrade with romantic atmosphere, for you.
Mezestoran Dvorište
Imagine you have your coloring book from childhood. Inside of it, every little detail is arranged by your size and taste. Would you believe us if we tell you that, the place from your dreams really exist? And that is even better in reality.
Although is placed in Center of Belgrade, in one of the most visited streets Svetogorska, this treasure is well hidden from the city rush. Passing through the passage and walking into in the restaurant yard you might have the feeling that you have found something special.
But that is just the beginning.
In that same yard mermaids painted on the walls are wishing you welcome and calling you to relax in the cozy atmosphere of the restaurant.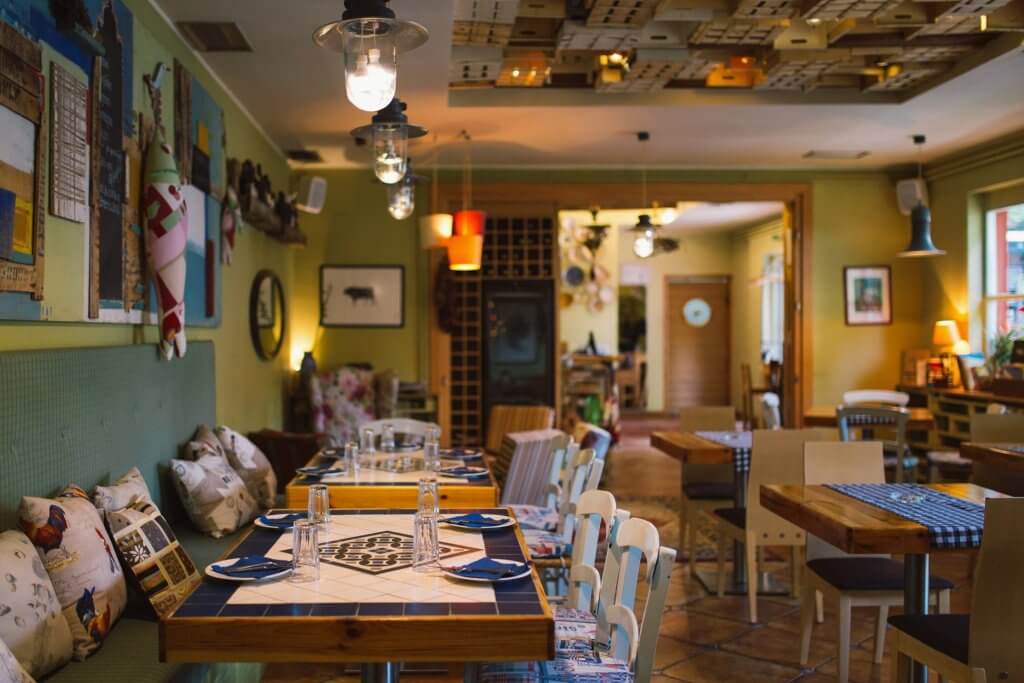 Pleasant and professional service will give the right recommendations and they are willing to go an extra mile to meet your needs.
When you start tasting all those tapas, meze style plates, original flavors of the Mediterranean, a wide choice of main dishes, unforgettable homemade tarts and excellent wines from Crete, your palate is going to melt in the most delicious tastes.
It is one of those nonpretentious places, urban but down to earth. Light space is decorated with and sea motives.
In the evenings there is a great choice of little bands that are playing various kinds of popular music, from tango and fado to gypsy & smooth jazz and evergreen.
Beautiful ambiance, excellent food, and wonderful hosts will make you feel special, and it is what it makes Mezestoran Dvorište a must see in Belgrade.
Restaurant Langouste
The legend says that Langouste Restaurant Belgrade made a pact with the devil so he exchanged his soul for unlimited knowledge and worldly pleasures.
As we do not believe in the devil and when something is taking your breath away in every single part of it, it must have been an art of the Angels.
Hosts of Langouste Restaurant made to accomplished what seem to be the impossible. They brought knowledge from the fields of art, gastronomy, hedonism, service, and style and turned it into a first-class restaurant.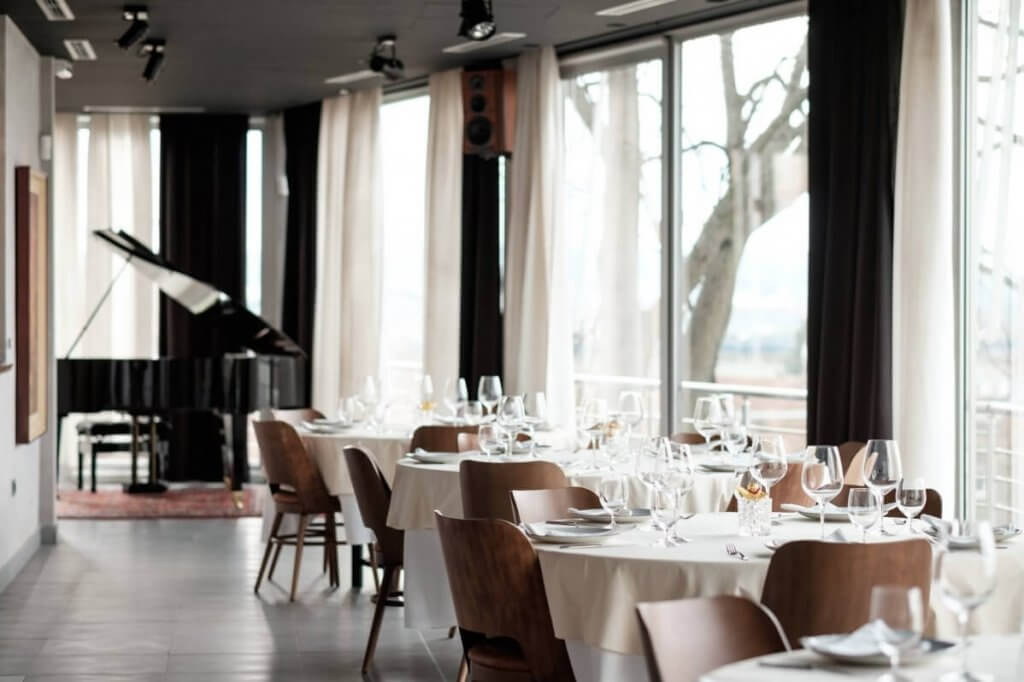 The team of highly dedicated chefs prepares dishes with most refined taste. From home baked bread with Tartuffe, through the beef tartar and most amazing young goat cheese in the beetroot foam with delicate crackers, to the and the dessert that tastes like they are out of this world.
A private and exclusive atmosphere is completed with only a few tables decorated with half precious stone and with Unique roundtable setting.
The piano is playing something smooth and elegant while your mind is lost in magnificent view over the Sava and Danube rivers. The restaurant is perfect for business and pleasure, and it will give you the unforgettable experience. And on the top of everything we mentioned about Langouste Restaurant Belgrade, add his attractive location on Belgrade Fortress and you have a place you are always willing to come back.
Restaurant Mala Fabrika Ukusa (Litle Factory of Taste)
When a combination of imagination and tradition take a lead, you have a modern restaurant with a domestic atmosphere.
Wherever we are, we all need to take a break and warm our hearts with that unforgettable, familiar feeling. Feeling of home. Brightly decorated with ethnic details, wooden chairs and tables Litle Factory of taste will take you back in some carefree times.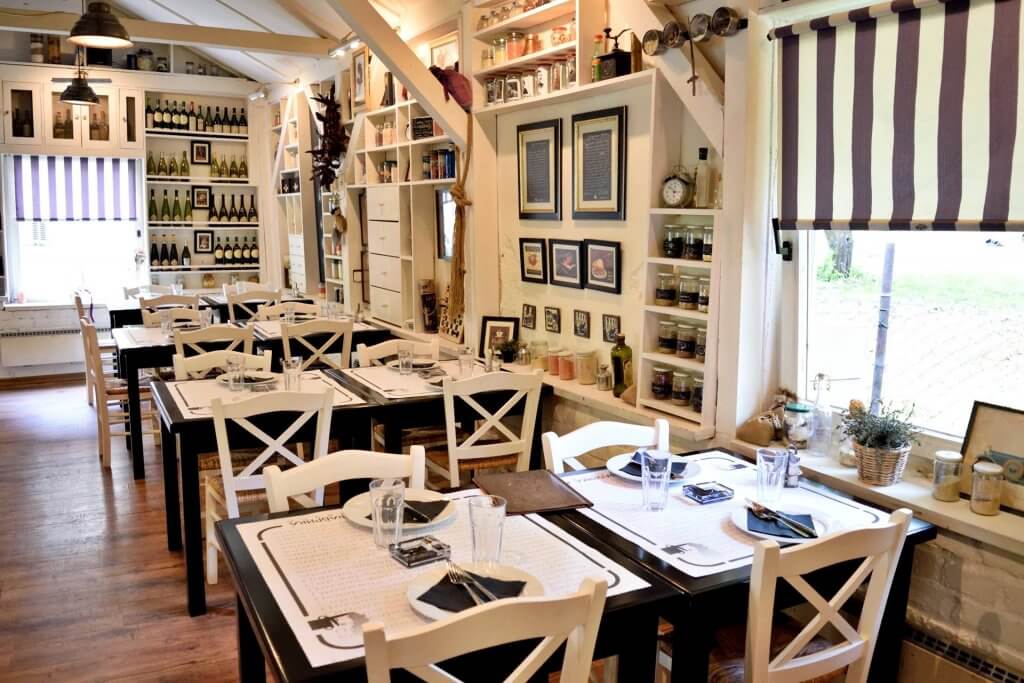 Motivated and professional stuff is taking care of every little detail to make you feel comfortable. If you are not introduced with Traditional Serbian Cuisine, they are here to help you. The compound of flavors, textures, and presentation of food makes the meal a delightful experience.
Traditional Serbian food is here always spiced up with new ideas and prepared with great attention to details, which make that this restaurant is changing the culinary scene of Belgrade.
Every meal is carefully prepared and served in an unexpected and interesting way.
It is fancy but the interior is very cozy with nice outdoor extension. Leaders of this romantic place have been thinking of every detail, so while your children are waiting for a delicious dessert they can have fun on the outdoor playground.
Surrounded by a beautiful garden, this rare flower of Belgrade is suitable for your whole family which makes it even more romantic.
Comunale restaurant
When something is so exquisite, then it talks about it selfs. When something is so perfect, there are no words which could describe it.
Restaurant Comunale is situated in Beton Hala in Savamala on the bank of the Sava River and it has a romantic view. But it also has something very different from others excellent restaurants there.
Is it food? Is it interior? Is it service? Vine card? Or is it something else?
Well, we believe that is a little bit of everything.
It is predominantly arranged in industrial style. Part of a sitting is installed in a way of long tables and provides the feeling of community, while the other part has smaller tables if you want more romantic atmosphere.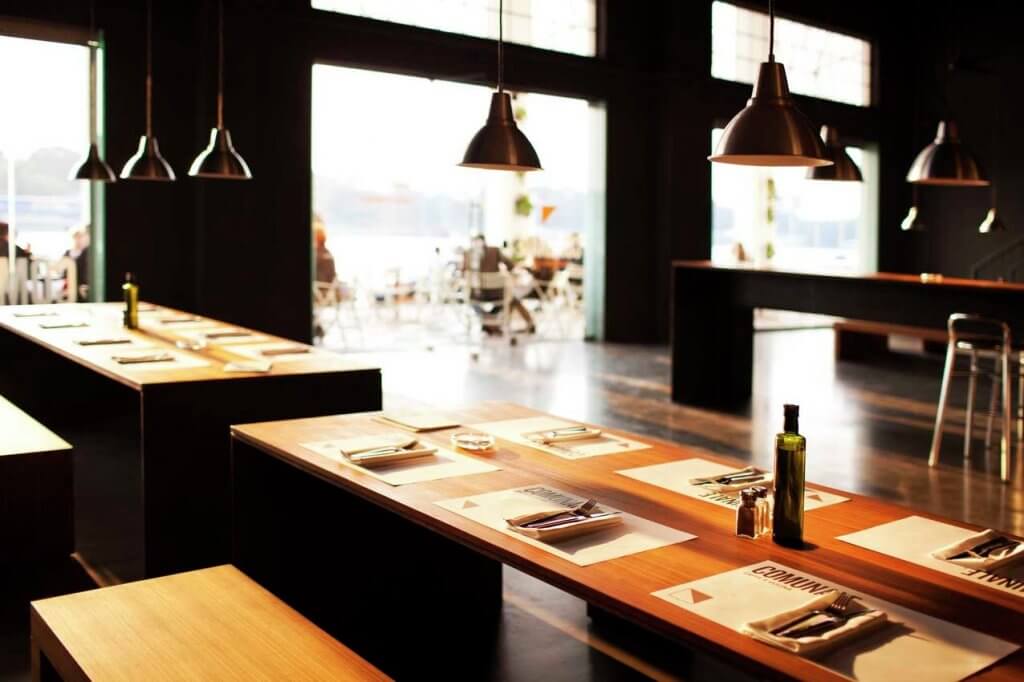 Attentive staff who made serious effort to match dinner choices and personal tastes are positive, kind and polite. But after all, they are highly professional.
Part of the kitchen is in the middle of the restaurant, so you can witness the preparation of several dishes.
Restaurant mostly serves Italian food, and pasta lovers can order their handmade pasta. Chefs are using one of the latest hot items for preparation delivering a nice, barbecue style meat in a downtown restaurant.
Pure elegance, weaved in every atom of every nice detail, gives you the feeling of comfort, warmth, fulfills all your senses and leaves you speechless.
It seems like this restaurant neither needs something more, nor something less. But it is just right. Just perfect.
Little Bay Restaurant
Probably, each one of us, have been imagining what would be like to live in some other time. In the time of Wiliam Shakespeare, where words were sweet and intoxicating at the same time.
When the art was translated into flawless clothes, rooms, literature, theatre, paintings when the art was a way of living. Although we live in a modern time, rushed by our daily obligations, it is possible to disappear in that extravagant past, even for a few hours.
After four successful restaurants in London, Dragiša Piter Ilić brought to his home country an original concept of restaurant worth of admiration.
Inspired by the glow of baroque, decorated with red plush curtains and style furniture and situated in old part of a Belgrade City, in Little Bay sparkles with a classy atmosphere of the 18-century.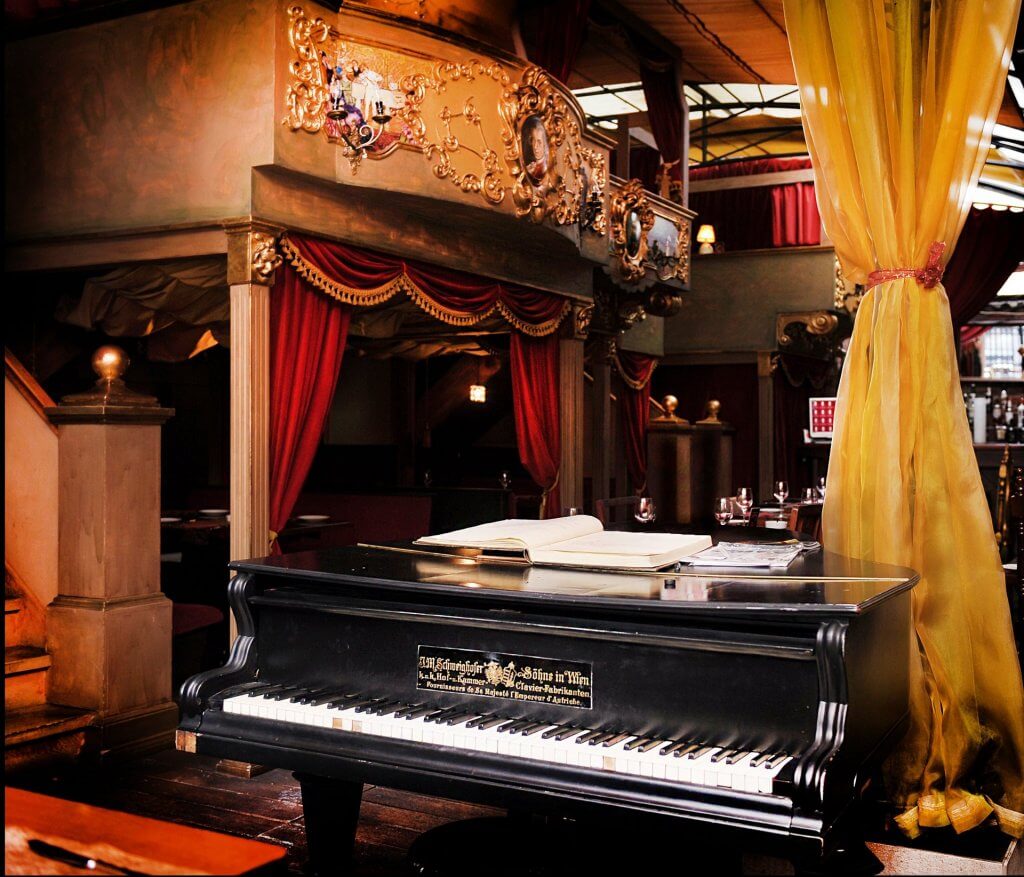 It serves modern European cuisine in a unique environment and the menu is constantly complementing with new, great dishes.
This is the only restaurant in  Belgarde where you could have the feeling you are in a middle of Shakespeare stage or in some Opera House. In evening Litle Bay is a home of numerous jazz and opera artist who gives the spectacular note to this magical place.
A bit of atmosphere from Little Bay restaurant:
It gives the ode to culture and its patrons exudes with glamour and elegance, compounded with great food, extravagance style, and professional staff, this restaurant will definitely mesmerize you.
---
We hope that we succeeded to carry over to you, some of odors and flavors that Belgrade is proud on. We believe that you managed to imagine some of Belgrade's most romantic Restaurants, which proves White City can stay shoulder to shoulder with worlds leaders Capitals.
And as every romantic story directed by us has a happy end, take a person by your side, and come together for the unforgettable experience.