Beautiful weekend, abundant of shunshine, usually works as a trigger for our group to explore Serbia. Our goal was to reach the banks of Drina river, Serbian natural border with Bosnia and Hercegovina and one of the most beautiful rivers in Europe. As a destination we've picked ethno complex "Sunčana Reka", or "Sunny river" in English; located on the very banks of Drina mid-flow. We have heard so much about it, that we had to make sure if all the rumours were correct…
Morning departure from Belgrade, around 8 o' clock, was interrupted couple of times just to enjoy the trip as much as possible. Our first stop, as we exited the Belgrade-Šid highway, was a village called Salaš Noćajski; just a few kilometers from Serbian special reservate of nature "Zasavica", and 5 kilometers from Sremska Mitrovica, ancient Roman capital known as Sirmium. It was a great struggle whether to visit Sirmium archaeological site and enjoy bird-wathcing in Zasavica, but our trip was completely dedicated to discovering Serbian folklore; so we have decided to leave these gems for our next adventure.
Dragon of Noćaj
Arrival to Salaš Noćajski was somewhat easy: long streets intersected under the right angle are easy to follow, so soon we were welcomed by our hosts – Čupić family. Proud of their legacy (our hosts were descendants of famous Serbian merchant and duke Stojan Čupić, known as "Dragon of Noćaj"), our hosts prove their tradition as we were all served in traditional Serbian manner: homemade bread, salt and rakija! Mr Svetislav, the owner of Ethno Complex "Zmaj od Noćaja" took us to his realm: beautiful courtyard surrounded with outstanding examples of local Serbian architecture trully returns you in the period of his famous ancestor. Just to spice up the atmoshpere, Mr Svetislav Čupić introduced us to the history of Čupić family and its most famous member – Stojan Čupić. Tales of Serbian heroes in Serbian liberation period were told with such a passion, and a visit to their memorabilia collection from the 19th century made us speachless (which is not so easy).
Even though we just came by for a coffee break, renowned Serbian "honor of the host" couldn't let our hosts to leave us without a proper refreshment. A dining hall was unbelievable: set in an old house (Serbs call it "vajat"), dining room was like a time machine – wooden chairs made of raw wood, old furnace in the corner, needleworks everywhere… Wow! Within minutes our tables were full of homemade specialties: pickled vegetables, all sorts of dry meat and bacon, domestic white cheese, pies and a special recipe of Ms Radmila – "Monk potatoes"… Outstanding! The crown of our visit was with the appearance of the youngest family member – Aleksandar – and his accordeon. All of a sudden the manor was filled with old Serbian melodies, as father and son took their turns in playing beautiful music…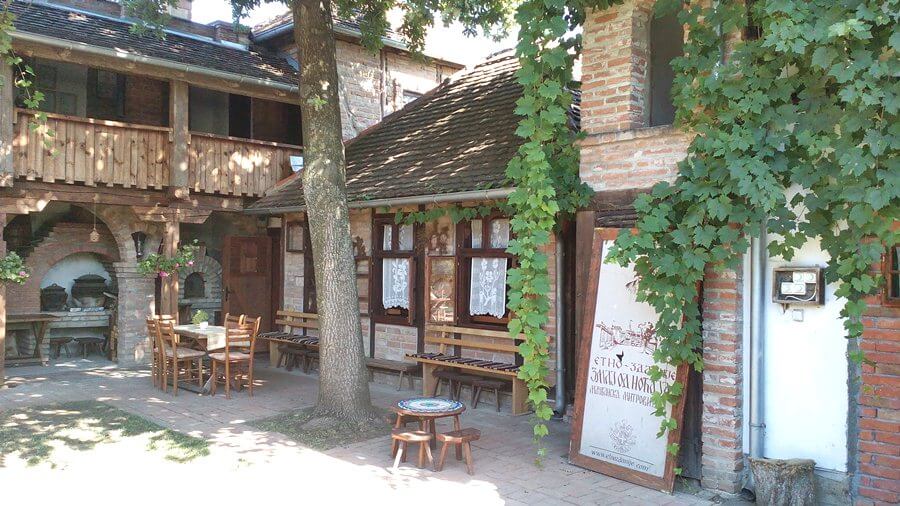 It was very hard to say "goodbye" and leave this oasis of harmony, but we have promised to Čupić family that they could expect us very soon. Having several rooms within the manor, we are already looking forward to returning to duke's manor. One thing is for certain – Čupić family kept their honor in the best manner possible.
Sunny river
Our journey to West Serbia continued around the Mt. Cer on one, and picturesque forests and hills on the other side. Soon enough we entered city of Loznica, which ment that we are very near our destination. Loznica and its surroundings played a big role in Serbian culture and history. Nearby monastery Tronoša and Tršić village have a great deal in Serbian heritage, since the reformer of Serbian alphabet – Vuk Stefanović Karadžić – was born and raised there. Thanks to him, Serbs today have one of the most perfect phonetic alphabets in the world.
Mt. Gučevo in front of us announced the arrival to the banks of river Drina and our goal – "Sunny river". Just a first glimpse of it proves the worthiness of its name: a large mansion divided into several areas, all decorated in west-Serbian style. Numerous cars and buses confirmed the popularity of this resort, with abundance of recreational options: couple of tennis courts, basketball court, beach volley court, horse ranch with horses and donkeys, quads…
Yet, somehow designers managed to keep that countryside peacefulness.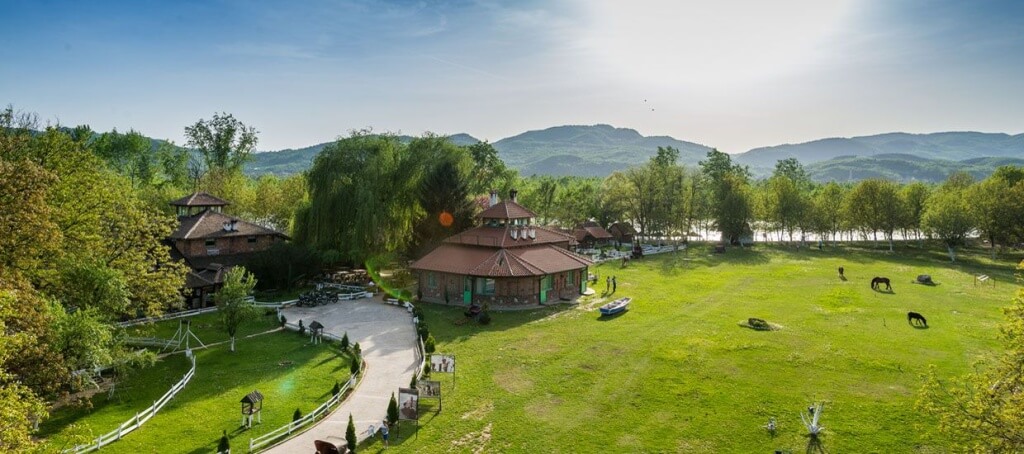 The central part of the complex is presented with bungalows and a small hotel, as well as with a large ethno-restaurant. Having a whole day at our disposal, we agreed to rent a bungalow for those of us who wanted to rest; but the first thing we practically HAD to do was to taste those delicacies that smelled so good…
Local specialties were mouth-watering: homemade sour cream, kajmak, outstanding cornbread, Drina river fish, inevitable Serbian barbecue, abundance of salads… We were about to burst! But the manner it was served was a cherry on top of a cake: everything here is dedicated and motivated by local heritage. The dishes were made out of clay and wood, which really contributed to that ethnic sense.
We had to lose some calories somewhere, yet our group was quite divided with the phrase: "You just go and play, we will supervise you from that shade over there". The compromise was found just a few dozen steps – at the BEACH! Secluded by willows and birches, a beach at the banks of River Drina was a true haven for us. Several tables and benches above the beach did the great job in relaxing with a cold drink and nice breeze coming down the Drina valley.
I have to tell you the truth – noone noticed how time flew so fast. It seemed it was just a couple of minutes as we have arrived, and the sun already began to set down the Bosnian mountains on the other side of the river. We have barely woken up those of us in bungalows, as they enjoyed its true countryside atmopshere.
As we departed from "Sunny river", turning our heads back for the last glimpses of this beautiful place, we remembered one thing: we didn't take any desserts! Is that even possible??? OK, don't panic, we won't turn back – "it's unethical"…
Royal Spa
Our choice was nearby spa – Koviljača, one of the first urbanized spas in Serbia, with long and rich history. It is called "Royal Spa", since Serbian kings had their villas there. Thanks to them, Koviljača was developed into one of the most beautiful spas of Europe in that time. Tucked in the centuries old pine forest, with Art Nouveau villas around the healing springs, Banja Koviljača was the crown of our tour. Royal villas are adapted to modern needs, but still in that romantic atmosphere of early 20th century. Fountains and monuments, neet lawns and gardens practically invited us for the overnight. Our time schedule, unfortunately, was rigorous to us.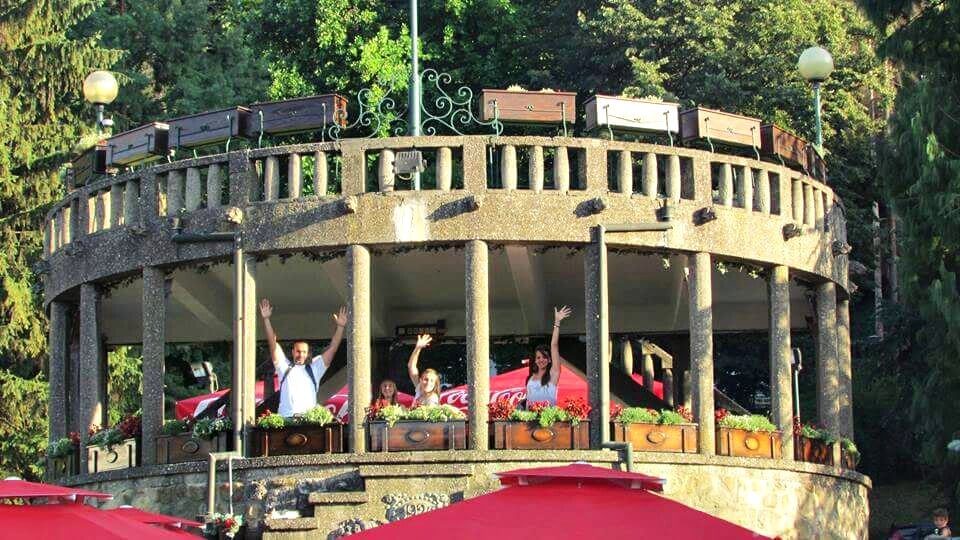 As we enjoyed the panorama over Banja Koviljača from the restaurant's terrace, enjoying our desserts, we made a promise to return to West Serbia with more days at our disposal…
Writen by Petar Živić / Serbia Incoming DMC Project Manager