Like any other cosmopoliten city Belgrade is full of great restaurants.  Whether you would like a sushi restaurant, an American steakhouse, an Italian restaurant, a Thai eatery or exotic Cajun cuisine – you will find it all. Off course, most of restaurants serve Serbia traditional food, that is hearty and tasty, with lot of meat.
There are several places that could be considered as one of the best classy restaurants in Belgrade, but here we've narrowed it down to our top 5 picks. These restaurants have, besides exelent food, great style, position, view and atmosphere.
1. Kalemegdanska Terasa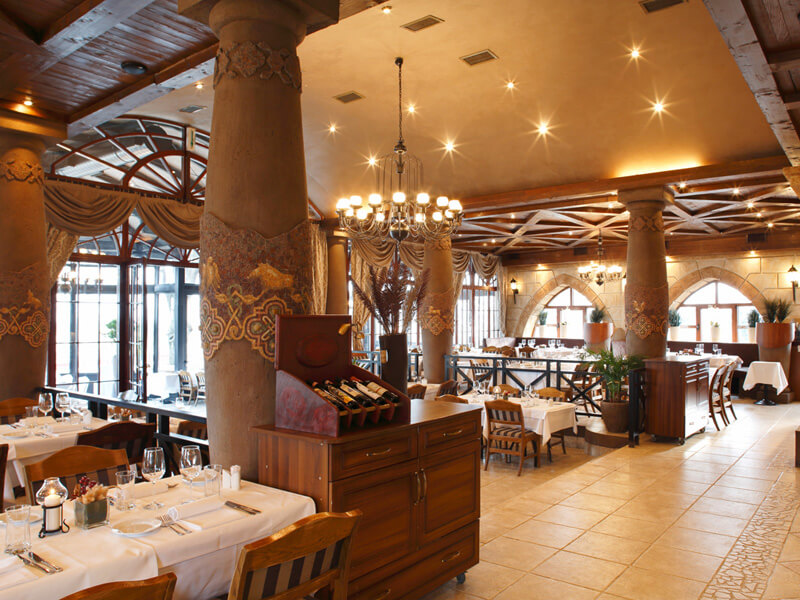 Kalemegdanska terasa is one of the classiest Belgrade restaurants situated in the surrounding of medieval Belgrade Fortress with the beautiful view over the confluence of the Sava and Danube. In accordance with its surrounding, restaurant has pleasant rustic interior that reminiscent medieval times where guests are entertained by live music every night. However, its charming summer terrace decorated with flowers and refreshing fountain is still the most favorite place of guests. With relaxing atmosphere and breathtaking view, Kalemegdanska terasa is ranked among the most wanted dinning venues during warm summer days.
Restaurant menu presents selected mixture of dishes from several national and regional cuisines including Serbian, Mediterranean and French cuisines. Guests can choose between grilled specialties and a la cart menu consisting of stakes prepared in several different ways, as well as chicken, turkey and veal dishes. Among all these dishes, two stand out particularly – grilled beefsteak and grilled turkey with mlinci. Moreover, you can choose from wide selection of salads, hot and cold appetizers and soups, as well as rich offer of local, regional and international (French, Spanish, German, Italian, Chilean, New Zealand) wines. From divers dessert menu we recommend local sweets krempita and orasnice.
2. Frans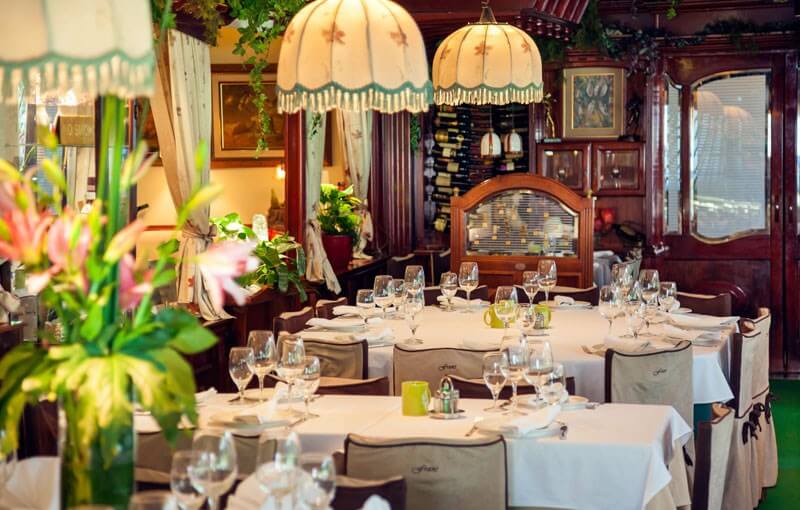 Franš is highly reputable among Belgradians and visitors who all love its excellent food, impeccable service and beautiful surrounding with pleasant garden. First thing that will attract your attention is restaurant's design and great location, near Slavija Square and highway yet far from its noise and rush. Since Franš's garden is one of the most wanted during spring and summer, you always need to make reservation before coming to the restaurant. It is very wide, full of greenery and suitable for children.
Franš is very popular especially between lovers of Serbian cuisine. However, popular international dishes are found on restaurant's menu as well. You can try various types of cheese and salads, specialties with truffles or excellent veal soup. Restaurant has extensive wine list and it offers quality wines from Serbian, France and Argentina. At the top of everything, you can't miss Franš's delicious tiramisu cake.
3. Madera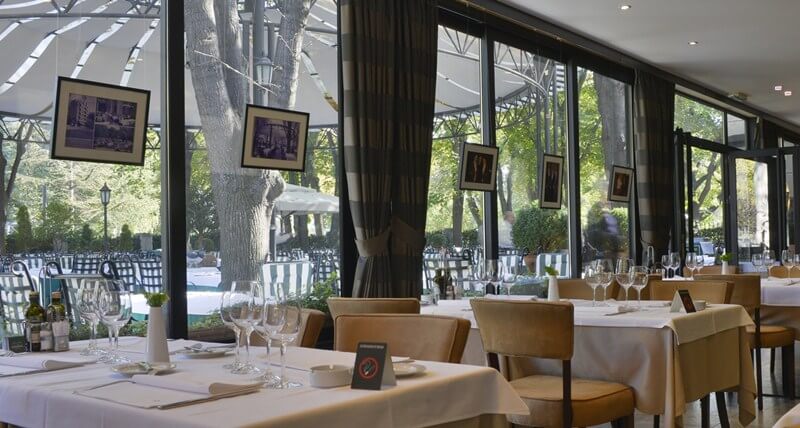 Madera Restaurant has a special place in heart of old Belgradians and it is considered one of the most popular Belgrade restaurants. Set in a beautiful surrounding of Tašmajdan Park, Madera is known after excellent selection of dishes prepared by experienced chefs and rich list of wines from Serbia, region and several international wine regions (Italy, France, Portugal, Spain, Australia).
Menu is mostly based on barbecue dishes, various salads and a good selection of cheeses. Apart from local dishes like ćevapčići, grilled veal cutlet or Leskovačka mućkalica, you can find here more sophisticated and modern dishes of the slow food cuisine. If you are a sweets lover, we suggest you to taste restaurant specialty – Crepes Madera, orasnice or krempita. During spring and summer time, Madera is on high demand because of its fashionable and lovely garden hidden in the shade of trees.
4. Iguana
With a minimalistic interior dominated by white, black and gray, overlooking the Sava River and energized by live jazz, Iguana is the perfect place for romantic dates, business meetings, or dinner with friends. The restaurant features a split level dining area as well as outdoor seating. To the left, a live jazz act livens the mood. To the right, bartenders are busy behind the long bar counter.
The vibe at Iguana is classy and elegant and the Serbian wine selection is excellent! The menu abounds with international fusion foods infused with Japanese flavor like sesame, soy, and miso glaze, which makes it one of the best modern restaurants in Belgrade. Specialties of the house include grilled tuna with avocado salsa, steak with wasabi, and their super-famous chocolate soufflé. Iguana is open daily for lunch and dinner.
5. Kovač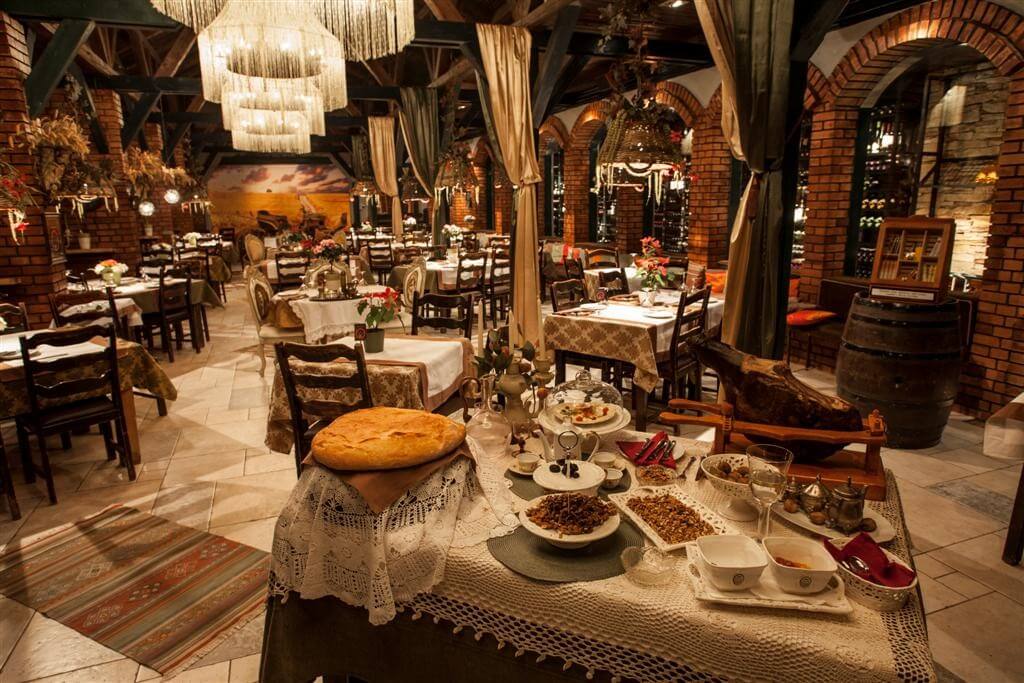 This is not merely a restaurant where you can have genuine Serbian cuisine at any time of day or night, this is Smithies where you can beat the daily routine and be welcomed and waited by proper Serbian way. At this site, the story goes, there once stood a roadside tavern. Travelers journeying along the road hundreds of years ago used to drop in for refreshments and snacks after a long trip. They would tell their stories, and as the legend goes, they would spend from morning till down there.
The building that host modern ethno style restaurant was built in 1932. The restaurant was named Kovač (Blacksmith or Smithies) because of the legend say there was one next door working for masters relaxing and storytelling in tavern. Also, because of the old belief that every blacksmith is also a sorcerer, capable of defeating the devil by identifying with him and fooling him at the end. There is also a popular saying that each man forges his own fortune.In autumn of 2005 Kovac was fully renovated and adjusted to cater to what people expect to find in a good restaurant and more.The restaurant specialises in traditional Serbian dishes, barbeque and roast under wrought iron plates and similarities in international cuisine with dishes in an environment redolent of bygone times. Drinks include Serbian brandy rakija with wide choice of flavours and makes, forest and other indigenous fruits to wines from most appreciated wine-growing regions in the world as well as cocktails served in most elite London bars. At its heart Kovac is Serbian get-together place where guest comes to find company while having coffee and breakfast in the morning , or lunch after noon, and to digest their love, business impressions and town gossip-and in the evening to spend time listening to live music in relaxed club atmosphere. Thematic nights guarantee to please every affinity.
---
Keep in mind that Serbia is still completely organic country, and that everything you eat is going to be extra tasty and healthy!